I don't know about you… but none of my friends are talking about stocks yet…
I don't mean my friends in the investment business. I mean if my wife and I went out to a party, nobody there would be talking about stocks.
In 1999, stocks were soaring and everyone was talking about it. In 2006, in Florida (where I live), everyone was "in real estate."
Today? People haven't gone crazy for stocks. That tells me we are nowhere near the top in this stock-market rally.
[ad#Google Adsense 336×280-IA]Before this great bull market is over, people will have "stock fever."
It just hasn't happened yet.
That means there's much more upside potential for us.
Earlier this year, I laid out a rough "script" for how I expect the bull market to play out…
The basic idea is that Mom and Pop America are about to migrate from ultra-low-interest investments (like cash and bonds) and into stocks.
That "Great Migration" will happen in three stages…
We're already deep into Act I of our script… At this stage, I said Mom and Pop would buy safe, blue-chip stocks… the kind of companies that pay big and growing dividends… as a way to get better returns than zero percent in the bank.
It's already happening. Big, safe, blue-chip health stocks are soaring. Take a look…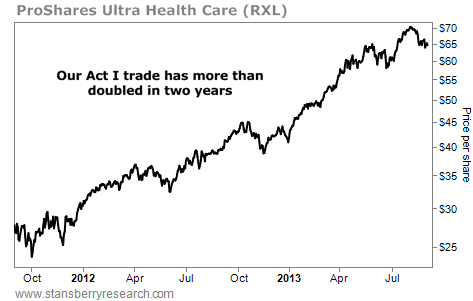 With such solid profits, Mom and Pop are getting bolder. They're starting to take on more risk. Their next stop – Act II – will be "Big Tech"…
And lately, these Act II tech stocks are beating the Act I health care stocks…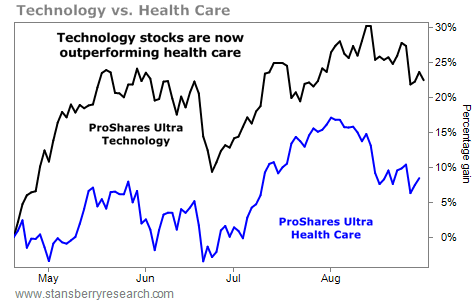 Google, for example, is not far from making a new all-time high. The company is up 75% in just two years. The same is true for Microsoft… The software giant reached a multiyear high in July. Even Apple is soaring higher after its spectacular fall.
The best part is, these Act II opportunities have plenty of room to run from here. You see, the largest technology companies are still dirt-cheap. Take a look…
Tech companies are trading at a big discount to the overall stock market. And these businesses – which most people don't consider dividend-payers – pay hefty yields right now.
Act II of our stock market "script" is now just a few months old. Big Tech stocks are cheap… they are outperforming health care for the first time in years. Now is the time to buy.
Good investing,
Steve
[ad#stansberry-ps]
Source: DailyWealth