The "ultimate low" in gold was three weeks ago…
That's what Dennis Gartman told CNBC's Squawk Box last Friday.
Gartman knows commodity trading. He's written The Gartman Letter, every day, for 26 years. It's a must-read around the DailyWealth office.
Today, Gartman is buying gold. He plans to keep buying. And I think he's right. Let me explain…
[ad#Google Adsense 336×280-IA]Gartman is bullish for a simple reason… one that longtime DailyWealth readers will understand.
The investing community hates gold right now…
"I bought it for the simple reason that every media outlet, every newspaper article, everything that you listen to was overtly, manifestly, ridiculously bearish," Gartman explained.
In short, no one wants to buy gold.
The majority of folks continue to call for lower prices. Based on history, bottoms often form at periods of extreme hatred, like we have today.
We can see this extreme sentiment by looking at the Commitment of Traders (COT) report for gold. The COT report shows the real bets of futures traders. When traders all believe something, the opposite usually happens. Right now, the COT for gold is coming off extreme bearish levels.
Take a look…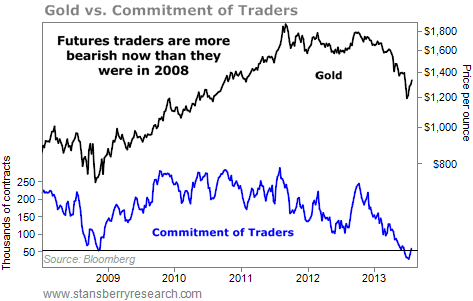 As you can see, the last time futures traders were even close to this bearish was 2008. After traders hit that extreme level of bearishness, gold jumped 71% in 13 months.
This time around, gold prices have already jumped… up over $100 an ounce – or 10% – since their recent bottom in June. That's put the trend in the gold bulls' favor.
"People won't like to hear me say this," Gartman told CNBC, "but the trend is up and it will continue to be up until it stops being up. That's the only thing I've learned in 40 years of doing this in the business. And certainly, I think the lows that were made three weeks ago will stand for a fairly long period of time."
Of course, Gartman is a trader. He isn't making multiyear predictions. But as a trader – with a short-term perspective – he believes the ultimate low in gold occurred in June.
I believe he's right. Gold is coming off extreme levels of bearish sentiment. And it continues to rally.
You can easily trade it with the big gold fund, SPDR Gold Shares (GLD).
It's tough to say how much higher gold could go. But the last time it was this hated, it rose 71% in 13 months. It could happen again.
Good investing,
Brett Eversole
[ad#stansberry-ps]
Source: DailyWealth