I LOVE a HATED investment… and today, gold is as hated as it gets.
Investors are as bearish as they've been since 2005. Right now, "big money" futures traders have the smallest long bets on gold they've had in the last eight years. And when extremes like this come around, prices almost always bounce higher.
This is a simple concept I've seen play out over and over again in my few decades in the markets…
[ad#Google Adsense 336×280-IA]A market can't peak until everyone is in the trade (like housing in 2007).
Until that happens, there are always new buyers pushing the bubble to new heights.
But when everyone is in – when there is no one left to buy at a higher price – that is when markets peak.
The same is true when markets bottom.
The gold market will bottom when everyone who wants to sell already has… when there is no one left to push down prices.
I believe we could be at that point right now in gold. And my favorite way to invest might surprise you…
You see, the best way to own gold right now isn't shares of a gold fund. It isn't bullion coins. And it isn't gold stocks.
Today, the best way to own gold is a little-known investment. With this opportunity, you could easily see a safe 50% return… even if gold prices go nowhere.
I'm talking about the MS65 Saint-Gaudens semi-rare gold coins we currently hold in my True Wealth portfolio. The story here is simple…
These MS65 Saint-Gaudens are "semi-rare" coins. They're pre-1933 coins that are less common than your average gold bullion coin… but less rare than one-of-a-kind collector's coins. Therefore, they're like a stock – they're easily tradable.
As an "in between" coin, MS65 Saint-Gaudens consistently trade for a premium to the price of gold. The chart below shows what I mean…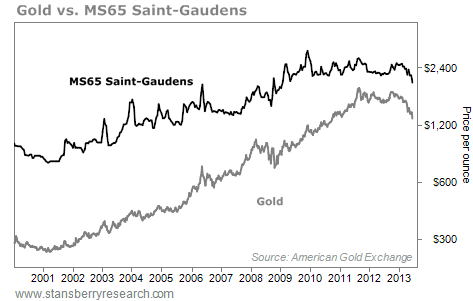 Over the last 12 years, MS65 Saint-Gaudens coins have traded for an average premium over the price of gold of 142%. That premium has declined consistently since late 2008.
But recently, premiums have turned upward… coming off an all-time low. Take a look…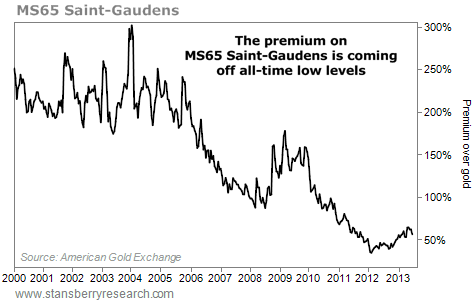 Today, the premium on MS65 Saint-Gaudens is around 60%… less than half the 12-year average premium.
Said another way, these coins need to rise 50% just for the premiums to reach their long-term average. And that assumes the price of gold goes nowhere. If gold rises, hundreds-of-percent gains are possible.
I think the crash in premiums is over… and the uptrend is here. These coins are my favorite way to invest in gold right now.
You have the upside potential of gold itself AND you have the upside potential (like a gold stock) if the premium expands.
Investors hate gold today. That usually leads to a move higher in prices. But even if I'm wrong, these MS65 Saint-Gaudens offer big upside.
Good investing,
Steve
P.S. These charts were courtesy of Dana Samuelson of American Gold Exchange… Dana tracks the data on gold as closely as anyone. And he's one of my very few recommended dealers. You can reach him and his team at 800-613-9323. I do not receive any compensation for recommending Dana. I do so because he's a trusted dealer, and he's always taken care of my readers.
[ad#stansberry-ps]
Source: DailyWealth