"Europe is going to be around," Warren Buffett explained on CNBC earlier this week.
He's right. Europe isn't going anywhere. And it's cheap…
"Europe's economic problems present a buying opportunity," he said. "We've been buying some European stocks and companies in the past year."
Since 1964, Warren Buffett has increased the book value of his holding company, Berkshire Hathaway, by 587,000%.
[ad#Google Adsense 336×280-IA]That's enough to turn a $10,000 investment into nearly $60 million.
The guy knows how to make money in the markets.
And right now, he's looking to make money in European stocks.
You might not be ready to buy Europe.
But you can make some real money here… so you need to understand this opportunity.
Over the past year, a certain group of European stocks have outperformed their U.S. counterparts. What's more… even after that run, they are still a better value than U.S. stocks today.
So based on history, we still have an excellent opportunity to get in this trade.
Let me explain…
Last April, when I updated DailyWealth readers on this opportunity, Europe was a mess. Greece was in the process of yet another bailout. And several European countries were already in recession. In short, there were plenty of reasons to be afraid of Europe. But that is often the best time to buy…
Since then, the group of European blue chips I discussed – the Euro Stoxx 50 Index – actually outperformed the S&P 500. Take a look…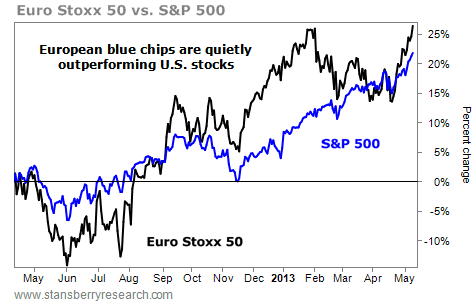 The Euro Stoxx 50 Index is up 26% in just over a year. You won't read about it in the news, but that beats the 22% return in the S&P 500 over the same period. And importantly, we still have a great opportunity to buy today.
Right now, the Euro Stoxx 50 trades for just 12 times this year's earnings. That's 20% cheaper than the S&P 500…
These European blue chips are also cheaper than the U.S. and other major world stock markets based on just about every measure. Take a look…
The easiest way to buy European blue chips is with the SPDR Euro Stoxx 50 Fund (NYSE: FEZ). Importantly, this fund doesn't hold fly-by-night companies. It holds the largest multinational blue-chip companies in Europe…
Top holdings include Sanofi , a $146 billion health care giant based in France… Total, a $121 billion oil & gas giant, also based in France… and Siemens, a $93 billion multinational based in Germany.
The companies in this fund will still do business and make money, no matter what. They're cheap – a much better deal than U.S. stocks. And even with Europe's troubles, they've soared. We have an uptrend here.
So what are you waiting for?
If you don't own them already, it's time to join one of the greatest investors in history and buy European stocks.
Good investing,
Brett Eversole
[ad#stansberry-ps]
Source: DailyWealth