I've been waiting and wondering for months…
When is Act II of our investment "script" going to start?
Regular readers know our script is a three-act play.
It's our plan for how to make money as Mom and Pop America buy stocks… big time.
They can't live on zero-percent interest. That's about to force them out of cash and bonds and into equities.
[ad#Google Adsense 336×280-IA]For a long time,
it looked like we were still stuck in Act I
.
But now, finally, Act II might just be here. Let me explain…
On [Tuesday], I updated you on where we are in our stock market script.
I wrote…
The first stocks Mom and Pop America will buy when they migrate out of cash are the big dividend-paying blue chips… big-name stocks like Johnson & Johnson, Pfizer, and Merck.
That's Act I…
Our script says the next step for Mom and Pop – Act II – will be to take on a bit more risk and buy Big Tech stock names (like Apple). I still believe these stocks will be the next to soar.
We've already made some pretty big gains in Act I. My True Wealth subscribers are up 122% on these stocks through the ProShares Ultra Health Care Fund (NYSE: RXL). RXL's largest holdings are Johnson & Johnson and Pfizer, each making up over 10% of the fund.
I've kept thinking these stocks have run up so much… we must be near Act II. Over the past two weeks, change finally arrived…
Big Tech stocks have dramatically outperformed the big dividend-paying health care stocks. The ProShares Ultra Technology Fund (NYSE: ROM) is up 8% from its recent low… Meanwhile, the ProShares Ultra Health Care Fund is down nearly 5% from its peak. Take a look…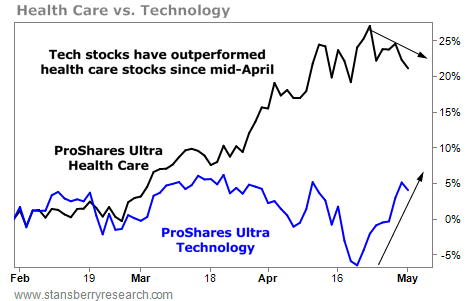 I might be jumping the gun… but I am willing to make the call: Act II is here!
From now on, our upside potential in Big Tech stocks is enormous. They're an incredible value today…
The most common measure of value, of course, is the price-to-earnings (P/E) ratio. And when you size up the big holdings in ROM on their forward P/E ratios, the median is just 11. That's incredibly cheap.
From these cheap levels, and at our currently low interest rates, we have room for HUNDREDS OF PERCENT GAINS – particularly by investing in a double-long fund like ROM.
And these stocks are even cheaper than they appear…
These companies are each sitting on mountains of cash. So when I size up the real value of Big Tech businesses, I strip out their cash balances. Take a look:
After you strip out the cash, most of these names trade at forward P/Es in the single digits. For example, Apple's stock market value is about $415 billion… If you subtract $137 billion in cash to value Apple's business, it trades for just 6.7 times future earnings… That's DIRT-CHEAP.
Not only are Big Tech stocks dirt-cheap – they're also in a budding uptrend. The uptrend is only two weeks old. But I think it's for real… I believe Mom and Pop America are getting bolder with their money. They've started buying Big Tech stocks like Apple and Google.
And in the last two weeks, Big Tech has started outperforming our Act I stocks (like big dividend-paying health care companies).
It is time for Big Tech to take off.
You can take advantage of the opportunity through ROM. Apple, IBM, Microsoft, and Google – exactly the kind of dirt-cheap technology companies we want to hold today – are among this fund's top holdings.
As Act II heats up, these companies should absolutely soar. Don't miss it.
Good investing,
Steve
[ad#stansberry-ps]
Source: DailyWealth