OK… This will likely be my last cautionary essay for a while.
I've been warning of the potential "sell in May" scenario for so long, I'm getting sick of it myself. But there are three cautionary charts that really stand out to me right now…
Let's start with the summation indexes…
Summation indexes are momentum indicators that measure overbought and oversold conditions.
[ad#Google Adsense 336×280-IA]As long as the summation indexes are moving in the same direction as the market, the trend is strong and likely to continue.
When the indexes diverge from the market – especially when that divergence begins from an extreme overbought or oversold condition – it's a major warning sign that the trend is about to change.
In the charts below, you can see how the summation indexes for the New York Stock Exchange (the NYSI) and the Nasdaq (the NASI) reached deep into overbought territory in 2010 and 2012… and then turned lower a few weeks prior to the stock market peaking in those years. The indexes were modestly overbought in early 2011 before declining. The stock market followed suit a couple weeks later…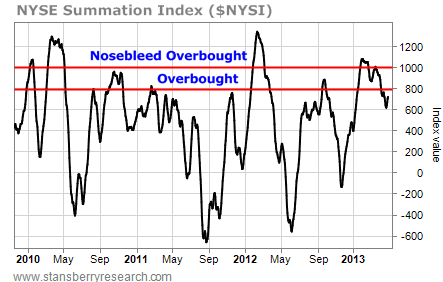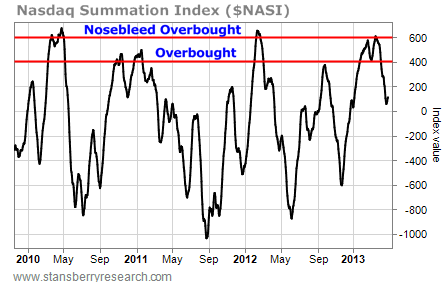 Both the NYSI and the NASI reached extreme overbought levels several weeks ago. They have been trending lower recently as the broad stock market has rallied to new highs. This negative divergence ended badly for the market in each of the past three years. It's liable to end badly for stocks this time as well.
We also have the same warning sign in the bullish percent index for the S&P 500 (BPSPX)…
This is another indicator of overbought or oversold conditions. A bullish percent index measures the percentage of stocks in a sector that are trading with bullish point-and-figure chart patterns. Any reading above 80 is generally considered "overbought." And when the index turns down from overbought conditions, it generates a "sell" signal.
This indicator turned lower two weeks ago – just as it turned lower prior to all the major declines since 2010. It's another reason to be cautious…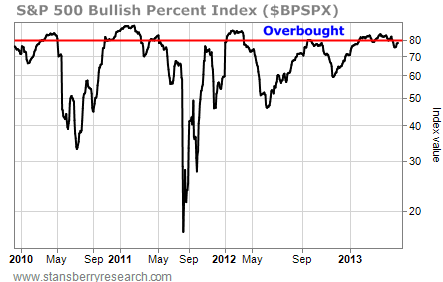 Based on these indicators – and on the other caution signs I've written about over the past several weeks (here and here) – stocks are likely to be cheaper a month or two from now. If we get the sort of selloff we saw in each of the past three years, the market will wipe out most of the early gains from this year. Then we'll finally have a low-risk buying opportunity.
And I'll have a reason to write something bullish for a change.
Best regards and good trading,
Jeff Clark
[ad#stansberry-ps]
Source: The Growth Stock Wire