The mining stock selloff has reached an extreme…
BHP Billiton (BHP) is one of the world's largest producers of nearly all the major commodities. It mines stuff like aluminum, copper, coal, iron ore, nickel, silver, and even uranium.
It owns incredible "trophy" assets, like the Escondida copper mine in Chile.
[ad#Google Adsense 336×280-IA]This is the world's largest single producer of copper. It also owns the giant Olympic Dam mine in Australia.
It's the country's largest underground mine that produces copper, uranium, gold, and silver.
BHP's market cap is more than $170 billion. You could build entire companies out of any of a dozen of its mines.
And chances are good that you own something made of material that BHP produced.
But over the last two years, BHP has suffered alongside the rest of the commodity sector… Shares are down 30% from their 2011 peak.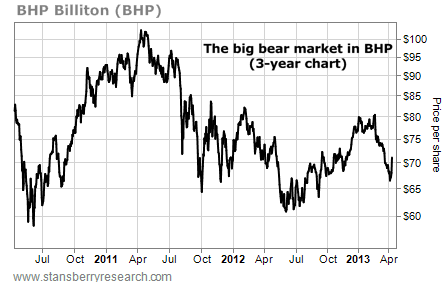 And now, you can own BHP's incredible assets at a rare price.
Take a look at the chart below. It tracks the last 13 years of BHP's price-to-book ratio. Book value is simple. It's essentially the value of all its mines. And right now, BHP is trading at an extreme low compared to book value.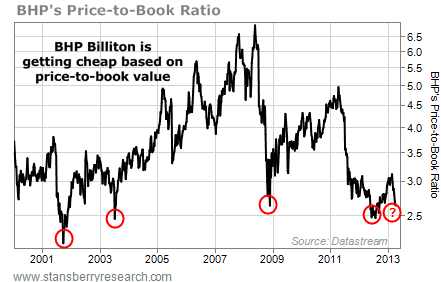 BHP is trading at about 2.7 times book value. Its price-to-book ratio has fallen below that level five times in the past 13 years. If you bought BHP stock at those points, you made double-digit gains every time.
Here's a table that shows just how well you did:
These trades returned annualized gains between 65% and 141%.
Now… as you can see… BHP hasn't always immediately turned around after hitting 2.7 times book value. Prices could still go lower.
The average bottom in the price-to-book value is 2.44. At today's book value, that works out to $62 per share, about 10% below its current price. The low in the price-to-book value over the last 13 years is 2.16. That would be 18% below its current price.
But over the next year or two, I expect we'll see much higher prices for this trophy miner. If you're comfortable buying into a decline and you keep your position size small, this looks like a good trade right now.
– Matt Badiali
[ad#stansberry-ps]
Source: Growth Stock Wire