It's one of the biggest concerns of American retirees…
It's a vitally important idea…
And yet 95% of what we hear and read about it is bunk…
I'm talking about the concern that the U.S. economy is running off the rails… that we're in a recession… or worse, a depression.
[ad#Google Adsense 336×280-IA]I don't blame people for being concerned.
I've been in the financial markets for over 30 years, and I've never seen such extreme government overreactions to economic problems.
And as a result, it's going to cause problems years down the road.
But to invest and save effectively right now, we need to know what's going on right now… rather than listen to vague "doom and gloom" news reports.
Fortunately, knowing what's going on doesn't take much work at all.
We just need to consult a few simple gauges. Just like the gauges on your car's dashboard, they can quickly let you know how things are running.
For example, the Federal Reserve of Philadelphia's "Leading Index" combines a mix of data – like housing and unemployment surveys – to predict where the economy is headed.
When the index is above "0," the economy is expected to grow. When the data falls below "0," the economy is slowing. Recall that we use the 0.8 level as a warning level, especially if the overall trend is moving down…
As you can see in the following chart… it is now settling in above that 0.8 level. We have little worry for recession at this point.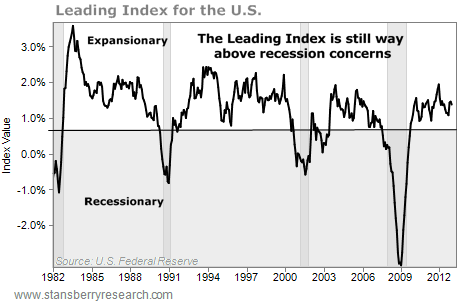 I also like to track activity in the service sector, which constitutes almost two-thirds of the U.S. economy. The Institute of Supply Management trade association compiles a figure called the "Non-Manufacturing Business Activity Index." (I shorthand it as simply "business activity.")
When the number is above 50%, it indicates the service sector is expanding. As you can see in the chart below, the latest point is holding well above 50% – although it is down from 60% last November.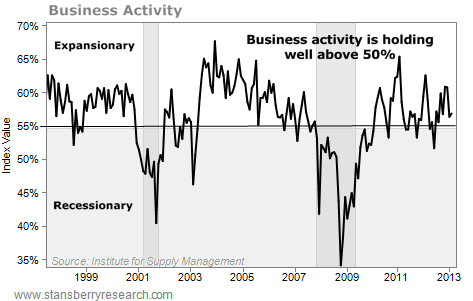 The following chart of U.S. home construction confirms what we've heard about the rebounding housing sector… Things are growing steadily, although remaining far below pre-recession levels… Again, this is consistent with no recession or slowdown in sight.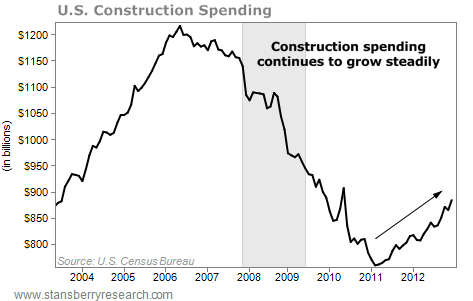 And lastly, a quick look at the overall economic activity – through the lens of private-sector employment – again confirms a growing economy.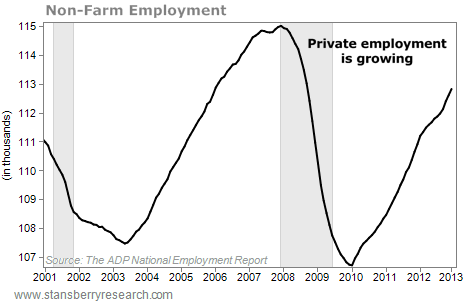 These charts all suggest the economy is slowly growing. It's not growing so fast that inflation is a problem… and it's certainly not near "recession" levels that so many people are afraid of.
With all this in mind, I encourage you to own blue-chip American stocks like software giant Microsoft (MSFT), national bank Wells Fargo (WFC), and discount retailer Wal-Mart (WMT). And as I pointed out two weeks ago, owning municipal bonds is still a great idea.
I don't have a crystal ball. So I can't promise this common-sense economic analysis won't change. But we have to invest and save with the information we have right now. And right now, it's saying recession concerns are low… which makes owning the assets I just mentioned the right thing to do.
Here's to our health, wealth, and a great retirement,
Dr. David Eifrig
[ad#stansberry-ps]
Source: DailyWealth