"This market is going crazy," a realtor friend just told me…
"Just this week, I got a beach condo under contract… and I got four more offers within 36 hours."
For years, I have urged you to BUY housing in Florida. I've told you housing here is attractively priced. And it will rise in price faster than just about anyone expects over the next decade.
[ad#Google Adsense 336×280-IA]Now, it's happening.
Have you missed it?
Absolutely not.
Home prices in Florida – and in the nation – can and should go much higher from here…
Last week, I told you…
Housing is incredibly affordable, and your risk is now reduced because the uptrend has returned.
This is it. This is as good as it gets. Housing is about to soar.
U.S. homebuilders told us the same thing in their recent earnings calls. Lennar (NYSE: LEN) and Toll Brothers (NYSE: TOL) both reported blow-out earnings last Wednesday. The stocks jumped 4.8% and 5.9%, respectively, on the news.
The market is hot. The major homebuilders show a turning trend in housing. And the anecdotal evidence from locals backs it up.
How high can home prices in Florida – and in the U.S. – go? Here's one simple measure we use to find out…
It is housing's "fair value," based on housing "affordability." Housing affordability is a simple concept based on one question…
Can the median American household afford the mortgage payments on the median house in America?
To answer that, we just need three numbers…
1. Median household income
2. Mortgage rate
3. Median home price
These three numbers allow us to calculate our "fair value" for home prices. As you can see in the chart below, fair value today is $265,000.
Because of the worst crash in home prices in decades and the lowest mortgage rates in all of history, home prices are still more undervalued today than at any time in our investing lifetimes…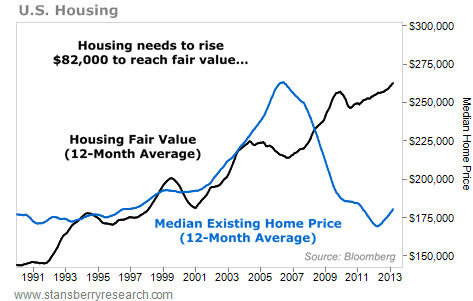 Exactly how much could home prices rise in America? Based on the numbers, our answer is: $85,000.
The median existing home price in America today is $180,000. Meanwhile, our "fair value" for U.S. home prices based on our simple "affordability" median is $265,000.
There's plenty of room for prices to run.
The market has heated up. At the same time, real estate prices are different than stock prices – they move in terms of years, not minutes.
You have serious upside potential here. By our math, the exact upside potential in the median home in America is $85,000. Of course, like any good boom, home prices could dramatically overshoot that number.
To me, this makes housing still the best deal in America right now…
Good investing,
Steve
[ad#stansberry-ps]
Source: DailyWealth