By now, you probably know gold stocks are cheap.
But you probably don't know about the huge "fire sale" going on right now in the world's most valuable gold mines.
If you buy now, you'll thank yourself in a year or two… when you've doubled your money…
As you can see from the chart below, the Gold Bugs gold stock index (the "HUI") is down 44% in the past 18 months…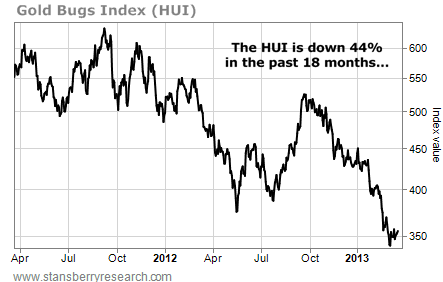 Over that same period, the gold price is down just 13%. And as Jeff Clark discussed earlier this month, this drop has made gold stocks extremely cheap relative to gold.
[ad#Google Adsense 336×280-IA]But just how cheap are gold stocks getting?
Let's use the world's largest gold miner, Barrick Gold (NYSE: ABX), as an example…
First, let's see how much gold Barrick has on the books.
To do that, we'll use "tangible book value" (TBV).
TBV is simply the value of a company's gold mines, excluding things like goodwill and patents. This is an important tool because it tells us if a company's assets "go on sale." That's the case with Barrick today…
Barrick's price-to-TBV ratio (its share price divided by its tangible book value) hit a high of 5.3 times in the first quarter of 2008. Its average price-to-TBV from January 2008 to today is 3.4 times. And the current value is 2.3 times.
That means Barrick's assets are trading at a 32% discount to their five-year average. And they're trading at a 57% discount to their 2008 high. Those are steep discounts. But the price of gold tells us Barrick's projects should be worth even more today…
Gold is down around 10% in the last five months, from more than $1,780 to around $1,600. But it is still 24% higher than its average over the last five years. That means Barrick's projects should be worth more today than they were in the past.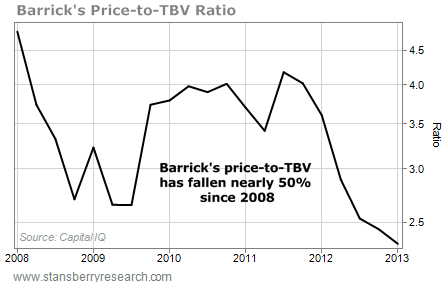 As you can see, Barrick's projects are trading at a significant discount to their average value over the last five years. Its share price would need to rise 46% just to hit the average value of 3.4 times. And it would need to more than double to hit the 2008 high of 5.3 times.
I think this could happen, even without a big move higher in the gold price.
Gold stocks are one of the greatest "boom and bust" assets known to man. Over the last 18 months, they've been stuck in "bust mode." But now, they're extremely oversold… and they're set for a violent "snap back" higher. The momentum could push them from extremely oversold to extremely overbought. Valuations could get as ridiculous on the upside as they did on the downside.
If that happens, Barrick could see its stock price double… or more.
Good investing,
Matt Badiali
[ad#stansberry-ps]
Source: The Growth Stock Wire