Investors have plenty of short-term concerns to worry about these days…
[ad#Google Adsense 336×280-IA]They're worried about a deposit tax on Cyprus bank accounts, the potential for a run on European banks, and the Federal Open Market Committee meeting this week.
Any or all of those events could provide a convenient excuse for stocks to finally pull back.
Today, let's take a look at a couple reasons we should be cautious for the longer term…
First, here's a weekly chart of the S&P 500 plotted against its Relative Strength Index (RSI)…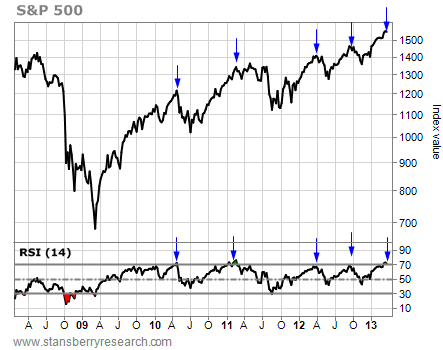 The RSI is a momentum indicator that measures the speed and change of price movements. It indicates overbought and oversold conditions. When the RSI is over 70, it means the index is overbought. When it's below 30, the index is oversold. As you can see from the chart above, previous intermediate-term tops occurred with the RSI at or slightly above the 70 level.
Last week, it closed at 70.60. So we could be looking at a drop from here.
The AMEX Institutional Index (the "XII") shows the exact same sort of pattern…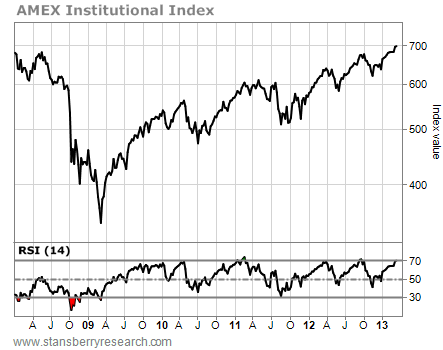 The XII is composed of 75 of the most widely held stocks in institutional equity portfolios. It's what the "big money" is holding – as opposed to the S&P 500, which reflects more of what the public owns.
Just like with the S&P 500, the XII tends to form an intermediate-term top whenever the RSI gets above 70 – which it did two weeks ago. Last week, it closed at 68.39. This also shows it's time to be cautious on stocks.
Any of the short-term concerns investors are facing this week may or may not become the catalysts for a short-term pullback in stock prices. But from a more intermediate-term perspective, these weekly charts suggest investors should definitely be cautious.
Best regards and good trading,
Jeff Clark
[ad#stansberry-ps]
Source: The Growth Stock Wire