The signs of a desperate bottom are starting to appear in the junior-mining sector… We're starting to see dollar bills trading for 80 cents.
Regular Growth Stock Wire readers know we keep close tabs on small resource stocks. Because this sector regularly goes through huge booms and busts, it's a good friend to the speculator. Get in the booms early and avoid (even short) the busts, and you can make huge returns.
[ad#Google Adsense 336×280-IA]For the past two years, the sector has been in bust mode.
Things are so bad now, many companies are starting to trade for less than the cash they have in the bank…
We like to gauge the price action in small-cap "junior" miners and explorers with the Toronto Venture Exchange Index.
It can be considered the "Dow Industrials of small resource stocks."
As you can see from the chart below, the Venture has been stuck in a downtrend since early 2011.
It enjoyed two brief rallies last year. But as of this month, it's back to its lowest values since 2009…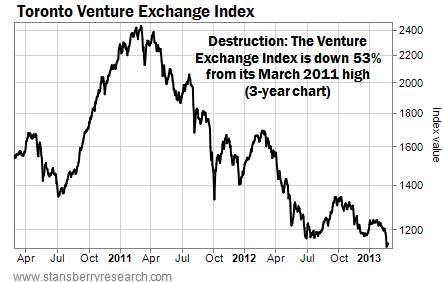 Investors are throwing in the towel on junior-resource stocks. Desperate sellers are willing to take almost any price. That's driven prices on about 4% of all the junior resource companies below the value of their cash on hand. Here are some examples…
Don't mistake this for a list of recommendations… it's not.
But this is the kind of thing we see at market bottoms. Desperate sellers dump their shares with no regard to their underlying values. Investment funds "puke up" their holdings to return what's left of their investors' money. And you can buy dollar bills for 80 cents or less.
If you're a contrarian, you've got to be getting interested right now.
Good investing,
Matt Badiali
[ad#stansberry-ps]
Source: The Growth Stock Wire