It's time to take profits on our natural gas short trade.
Back in November, natural gas was trading near $3.80 per thousand cubic feet (mcf) when I called it "one of the best short-selling opportunities of the year."
Last week, the price dropped to $3.20. That's nearly a 16% decline in the past three months.
But natural gas has been bouncing recently.
And now, natural gas is looking bullish…
Take a look at this chart…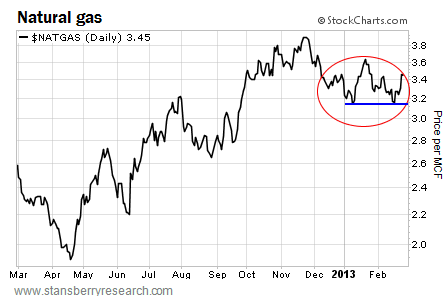 Natural gas now has a double bottom in place just below $3.20 (the blue line). That will provide support on the downside. The chart is also tracing out a potentially bullish "W" pattern (the red circle).
[ad#Google Adsense 336×280-IA]This is an intermediate-term bottoming formation… and it could lead to a strong rally if natural gas can break out above $3.60.
Seasonal trends are also starting to shift in favor of higher prices.
Natural gas tends to reach at least a short-term bottom in the spring.
Then it rallies into the early part of summer – where it often peaks for the year and provides a better short-selling opportunity.
You can read more about the seasonal trends here. But for now, we're entering the time of year when natural gas prices often bottom.
We no longer have the tremendous glut of natural gas we had back in November. In its most recent inventory report, the U.S. Energy Information Administration reported that natural gas inventories had dropped to 2.4 trillion cubic feet. That's slightly above the normal storage amount for this time of year… But it's 30% less than what was in storage in November. And it's down 9% from the same time last year.
It still may be too early to turn bullish on natural gas. But with inventories coming down and with the chart starting to turn up, it doesn't make sense to stay bearish. Traders should close their short positions and take profits here.
Best regards and good trading,
Jeff Clark
[ad#stansberry-ps]
Source: The Growth Stock Wire