Mining stocks have suffered a rough few months.
Ever since running higher into September last year (a rally that allowed traders to take profits on several gold-stock positions) the mining sector has been trending lower. And the past month has been particularly brutal for the group…
Despite the strong rally in the S&P 500, gold stocks – as measured by the Gold Bugs Index ($HUI) – are down 17% so far in 2013… and have suffered a big 28% drop since the sector peaked last September.
[ad#Google Adsense 336×280-IA]We've seen this story before.
Early last year, for example… as the broad stock market rallied, the mining sector reached ridiculously low valuation levels.
Investors soured on the group.
They sold off mining shares and chased overbought stocks even higher.
When the broad stock market declined in May, the mining sector bottomed and the Gold Bugs Index rallied 20% in just two weeks.
We are setting up for a similar sort of rally once again…
An intermediate-term bottom for the gold sector may still be as much as a few weeks away. But make no mistake about it, we are on the cusp of a major rally in mining stocks. Take a look at this chart of the mining sector bullish percent index (or "BPGDM")…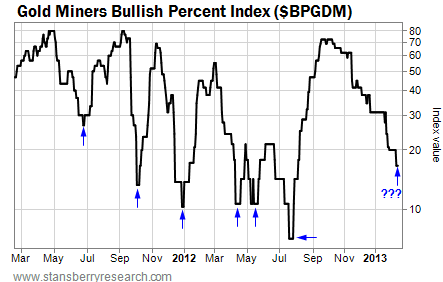 A bullish percent index is a gauge of overbought and oversold conditions. It measures the percentage of stocks in a sector trading in a bullish technical formation. Since it's measured as a percentage, a bullish percent index can only reach as high as 100 or fall as low as zero.
A sector is overbought when its bullish percent index rallies above 80. It's oversold when it drops below 30. On Tuesday, the BPGDM closed at 16.67 – deep into oversold territory. When it turns higher from here, the BPGDM will generate a buy signal – similar to the signals marked by the blue arrows on the chart.
Here's how the gold sector performed following each of the previous BPGDM buy signals…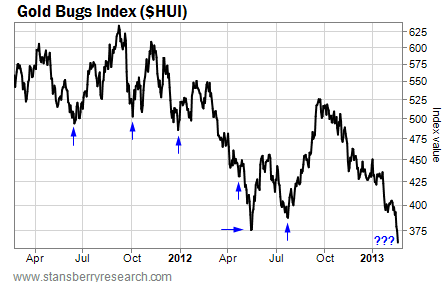 Five of the six BPGDM buy signals over the past two years marked intermediate-term lows for the gold sector and were followed by significantly higher prices. During the one exception, in April last year, gold stocks fell even further. But they did eventually trade for higher prices a few months later.
So keep an eye out for a BPGDM buy signal. It will mark the start of the rally in gold stocks.
Best regards and good trading,
Jeff Clark
[ad#stansberry-ps]
Source: The Growth Stock Wire