Over the last month, I've shown you how China's economy has seen a resurgence in commodities imports like copper, iron ore, uranium, and coal.
China is the largest importer of industrial commodities in the world… So when its demand picks up, it's bullish for the sector.
Last week, I showed you the most compelling chart of all – China's monthly car sales are soaring again. And that's the launching pad for the next exciting installment of the commodity boom story…
[ad#Google Adsense 336×280-IA]I'm talking about platinum.
And if you buy platinum assets right now, chances are good that you'll double your money over the next year or two.
Platinum is a "dual purpose" metal.
It's used in jewelry… and it's considered a "store of wealth," so it serves as a precious metal like gold.
But it's also an industrial metal.
It is used to make catalytic converters – which reduce a vehicle's pollutants – and as a catalyst for refining gasoline and diesel fuel. Those two sectors account for 57% of the platinum produced per year. And demand is soaring…
China is the world's largest car market… and its sales were up 31% from July to December. Car sales in the U.S. – the world's second-largest car market – are the highest they've been in five years.
But while demand soars, platinum supply is in big trouble…
The metal is extremely rare… Unlike gold, which is mined on nearly every continent, 72% of the world's platinum supply comes from one volatile country: South Africa. Production in the country peaked in 2006 and has fallen 20% since. Thanks to mining strikes, aging, drying-up mines, and power-supply problems… platinum production fell 12% from 2011 to 2012 alone.
This is causing a big imbalance in platinum supply and demand. That should result in rising prices. But the market hasn't seemed to notice…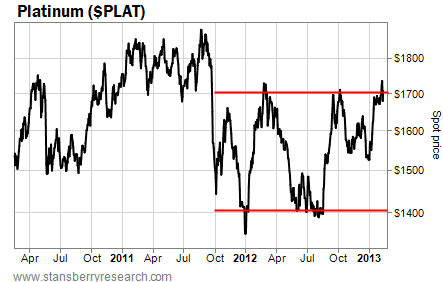 Thanks to economic troubles in the U.S., Europe, and China, platinum fell – along with the rest of the commodities market – in 2011 and 2012. Prices declined to $1,400 per ounce. And they have bounced between $1,400 per ounce and $1,700 per ounce since.
More importantly, platinum is trading at a discount to the price of gold.
Platinum has only fallen below the price of gold three times in the past 37 years. It historically trades at a 30%-70% premium to the price of gold. So based on history, platinum can't stay this cheap for long…
As the global economy continues to recover – and automobile consumption increases along with it – we should see platinum prices rise at least to their long-term average of 30% above the price of gold. That would put the platinum price around $2,200 per ounce today.
The fundamentals look ripe for a huge move higher. But until that happens, the market is giving us an incredible opportunity to take advantage of these dirt-cheap prices…
One of the best ways to do so is through shares of the Sprott Physical Platinum and Palladium Trust (NYSE: SPPP). SPPP is a new platinum fund formed by famed resource investment management firm Sprott Asset Management. And it gives you exposure to physical bullion – without involving the banks.
This fund has an extra benefit for U.S. investors… If you hold the units for at least one year, gains you make on your investment are only taxed at a maximum of 20%. That is well below the 28% tax on most bullion investments.
So far, 2013 is offering us far more commodity investing opportunities than we saw last year. Platinum is the next exciting installment. I hope you take advantage.
Good investing,
Matt Badiali
[ad#stansberry-ps]
Source: The Growth Stock Wire