[ad#Google Adsense 336×280-IA]Transportation stocks are rocketing higher.
The Dow Jones Transportation Average is up 10% already in 2013. It's up 18% since it bottomed in November.
And [Wednesday], the index closed at its highest level… ever.
We haven't seen this sort of action out of the transportation sector since, well, just about the same time last year.
And if history is any sort of a guide, now looks like a good time to start bailing out of the sector…
In February last year, I turned bearish on the transportation sector.
The stocks had rallied so far, so fast, they looked vulnerable to a significant downturn.
Today, the transportation average is in a nearly identical situation.
Take a look…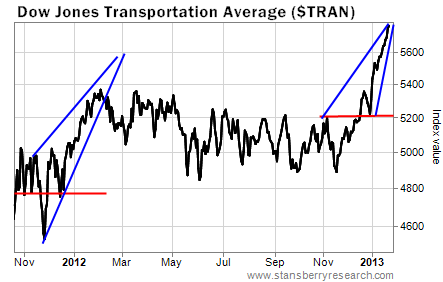 The chart is tracing out a bearish rising-wedge formation. When the chart broke down from this pattern last year, it projected a move down to 4,800 or so. As you can see, we just about hit that target in June.
We have a similar bearish rising-wedge in place today. A breakdown from this pattern brings the 5,200 level back into play. In other words, the transports are vulnerable to giving up all the fast gains they've seen this year.
As I mentioned on [Wednesday], this is a seasonally bullish time of the year for stock prices. And there's still some room inside the wedge for transportation stocks to work slightly higher. So I'm not willing to try to short the sector just yet. I'll wait for the chart to actually break down from the rising-wedge pattern before betting on the downside.
But this is definitely not a good time to buy transportation stocks. In fact, if you've been fortunate enough to be onboard for this rally, now looks like a terrific time to start taking your profits.
Best regards and good trading,
Jeff Clark
[ad#stansberry-ps]
Source:  The Growth Stock Wire