Traders are making big money on uranium.
Last month, I showed DailyWealth readers the global trends that are going to force uranium prices higher… For one thing, there's no way the world can meet its long-term energy needs without it. And demand is outstripping supply.
I also showed them how incredible bull markets in uranium can be. The last time around, many uranium producers gave shareholders 1,000%-plus gains.
[ad#Google Adsense 336×280-IA]And the latest news suggests we could be at the beginning of a major new boom in uranium…
On January 14, an arm of Rosatom, the Russian state-run nuclear power agency, offered to take Canadian uranium miner Uranium One (TSE: UUU) private.
Rosatom already owned more than 51% of the company.
And they're partners on a major uranium mine.
It's clear that the Russians wanted to get this deal done now, while the company is cheap…
The deal values the company at C$2.8 billion, or C$2.86 per share. That's 61% above its December low of C$1.78. But it's still way below where the company was trading just two years ago.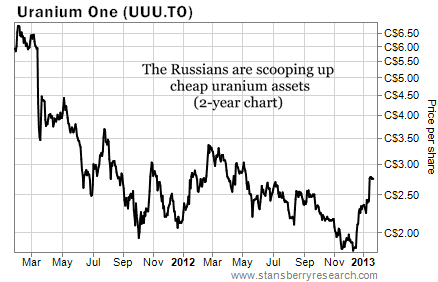 This is the second major acquisition for Rosatom in the last 18 months. Russia is building nuclear facilities throughout Asia and Europe. It's taking advantage of the low uranium prices to buy up supplies.
My S&A Resource Report readers are already in position to take advantage of moves likes this. The company the Russians targeted for acquisition was one I recommended in my December 2012 issue. Subscribers who bought shares of Uranium One following the recommendation are up 47% in less than two months.
And Uranium One wasn't the only company I recommended… I believe the "ExxonMobil (XOM) of uranium," Cameco (NYSE: CCJ), is a great opportunity for traders who want to profit in a uranium bull trend. (S&A Resource Report readers are up about 15%.)
This is the next big commodity boom. Traders are already making money. And the news out of Russia points to more gains ahead.
Good investing,
Matt Badiali
[ad#stansberry-ps]
Source: The Growth Stock Wire