It has been a great year so far for the stock market…
We're only three weeks in to 2013 and the S&P 500 is already up 3.5%. The index closed at 1,485 on Friday – well within reach of its all-time high of 1,576 from back in 2007.
Stocks tend to perform well this time of year… typically, all the way into April. So there's good reason to expect we'll challenge the all-time highs sometime in the next couple months.
[ad#Google Adsense 336×280-IA]Investors are coming back into the market, and fear is on its way out…
Cash flows into equity mutual funds are at their highest level since early 2000.
And the Volatility Index (the "VIX") – the market's "fear gauge" – is at its lowest level since 2007.
Yes, indeed, these are happy times.
So please forgive me for pointing out an inconvenient truth… both 2000 and 2007 turned out to be dangerous times to buy stocks.
Take a look…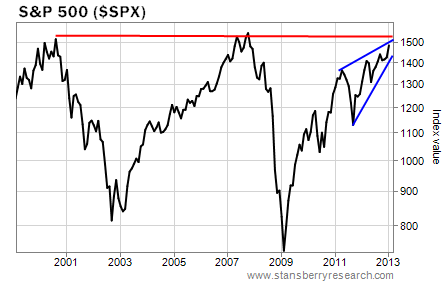 Stocks rallied early in 2000 and 2007. Then they suffered a mild late-spring decline before rallying to new highs in the summer. It was all downhill from there.
Today, the S&P 500 is tracing out a bearish rising-wedge pattern (the blue lines) as it approaches the resistance level of its previous highs (the red line). We still have a few more months for the index to work back and forth inside the wedge before threatening to break down from the pattern. But this is something we need to keep in the back of our minds… as it could spell trouble for the second half of this year.
The popular opinion among most analysts seems to be 2013 will be a good year for stocks, and the median target for the S&P 500 is about 1,550.
With the current flood of new money coming into the market – and with investor fear at its lowest level in years – we could see 1,550 sooner rather than later. After that, though, it may be a good time to start looking for the exits.
Best regards and good trading,
Jeff Clark
[ad#stansberry-ps]
Source: The Growth Stock Wire