Platinum is getting a lot of attention on CNBC these days.
The price of the precious metal is up almost 10% in just the first two weeks of 2013.
Platinum is now trading higher than the price of gold, which is where it should be, and something we predicted would happen.
Gold hasn't been slouching, either.
[ad#Google Adsense 336×280-IA]Since touching $1,626 per ounce last week, the price of gold has bounced higher – also something
we figured would happen
.
Gold closed [Wednesday] at $1,683 an ounce… and it looks ready to bolt even higher.
But there's one metal you shouldn't forget about…
I'm talking about silver.
In fact, if there was only one precious metal I could buy right now, I'd pick silver.
At just $31.36 per ounce, investors have the best chance to buy silver today since we told you to buy it last August (here and here).
Take a look at this long-term chart of silver…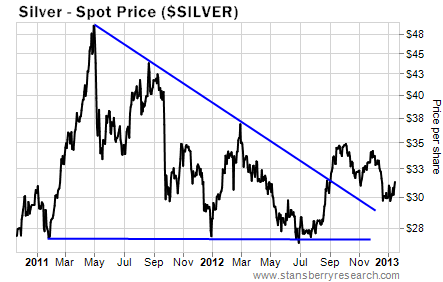 The blue lines on the chart show a consolidating-triangle pattern. This pattern formed as silver worked off the overbought condition caused by its parabolic rise to $48 per ounce in early 2011, and as it bounced multiple times on its long-term support around $26 per ounce. Silver broke out to the upside of the triangle last September and began a new rally phase.
Silver's decline in December tested the former resistance line of the triangle – which now serves as support. The support held, and the metal is now bouncing higher.
This is bullish action… And it's how bull markets begin. If silver can rally above its September high of about $35 per ounce, there really isn't any reason it shouldn't approach $42 over time.
We liked how silver was acting last August and we advised you to get in on the trade. But if you didn't act right away, the metal ran away to the upside so fast that it was hard to pick a low-risk area to get into the trade. The recent decline in the metal gives us that low-risk entry.
Traders can buy silver right here at $31.36 per ounce, and keep a stop at about $29.90 – just below the December low. That gives us about $1.50 worth of downside versus more than $10 of potential upside.
Platinum and gold may be getting all the attention on CNBC these days. But if silver behaves as I expect it to, it's just a matter of time before the cheap metal steals the spotlight.
Best regards and good trading,
Jeff Clark
[ad#stansberry-ps]
Source: The Growth Stock Wire