Biotech stocks have an incredible history of delivering quadruple-digit runs about once a decade…
It's stunning, really. In the late 1980s, biotech stocks took off, returning 3,246% in just a couple years. In the late 1990s, biotech stocks took off again, returning 1,523% in an even shorter period of time.
I think we're in the early stages of a similar run today.
[ad#Google Adsense 336×280-IA]Biotech stocks had a huge year last year…
The Nasdaq Biotech index increased 32.3%… more than double the overall stock market return.
And by investing in a double-long fund, my True Wealth Systems readers were able to lock in a 56% gain from January to November.
Even after that run, our setup in biotech stocks is still fantastic today.
Let me explain…
I use my True Wealth Systems service to determine when it's time to buy biotech stocks. Today, my biotech system is flashing a "buy" signal. In short, the trend in biotech stocks is up…
Meanwhile, the investing public is completely ignoring the opportunity in biotech.
You see, back in 2000 – after biotech stocks had soared 1,523% in less than three years – biotech CEOs were on magazine covers. They even had sexy headlines. No joke…
The July 2000 issue of Time Magazine ran the headline, "Cracking the Code: The inside story of how these bitter rivals mapped our DNA, the historic feat that changes medicine forever."
I haven't seen a sexy biotech headline in a major magazine in a while… And that lack of interest from the mainstream press suits me just fine.
Disinterest in biotech stocks has also led to cheap prices. The major biotech stocks are growing much faster than the overall stock market… But they're cheaper based on 2014 estimated price-to-earnings (P/E) ratios.
The Nasdaq Biotech Index is also 77% below its peak valuation based on price-to-sales…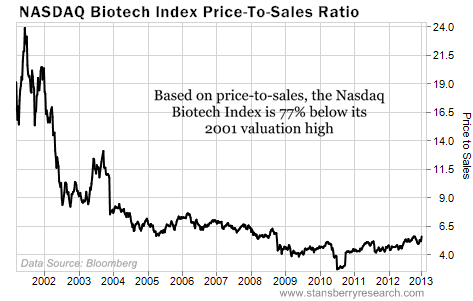 Investors have given up on biotech stocks and these companies are dirt-cheap because of it. Yet, biotech is in the middle of an uptrend. Based on history, we could be just partway into a 1,000%-plus move in biotech stocks.
In True Wealth Systems, we invest using the ProShares Ultra Nasdaq Biotech Fund (NASDAQ: BIB). Keep in mind… this is a double-long fund. So while the up days will be twice as good, the down days will be twice as bad.
Our True Wealth Systems computers believe now is the time to own biotech.
The sector is cheap, ignored, and in an uptrend. Quadruple-digit runs in biotech happen roughly once a decade. And we may be in the middle of another one of those 1,000%-plus runs, right now.
Take a look at BIB today if you aren't already in the trade. We expect another year of fantastic gains…
Good investing,
Steve
[ad#stansberry-ps]
Source: DailyWealth