Get ready…
Federal Reserve Chairman Ben Bernanke is about to make us a lot of money… again.
We netted big gains sticking with Bernanke in 2012. His zero-interest rate policy and enormous money printing fueled a "bubble" that has propelled asset prices higher. That's why I've been telling you to buy stocks, precious metals, and real estate.
[ad#Google Adsense 336×280-IA]The S&P 500 was up 16%.
Existing median U.S. home prices were up 11.3%.
Gold increased for the 12th year in a row, up 9.7%.
And silver jumped 20.1%.
At first, the "Bernanke Asset Bubble" was mostly a U.S. thing.
But by mid-2012, "Bernanke Fever" began to sweep the world. That's handed us our investing playbook for 2013, and set us up for even bigger gains.
Let me explain…
Our big theme for 2013 is… the new, GLOBAL Bernanke Asset Bubble.
Regular readers are familiar with my Bernanke Asset Bubble thesis… It's the simple idea that asset prices (like stocks and real estate) can soar to unimaginable heights, thanks to the Federal Reserve's commitment to printing money and keeping interest rates at zero for years.
And as I explained recently, the Bernanke Asset Bubble has become a truly global event… and the opportunities to make money from it heading in 2013 are awesome. Take a look at how some of my recommendations from around the globe have performed since June 30…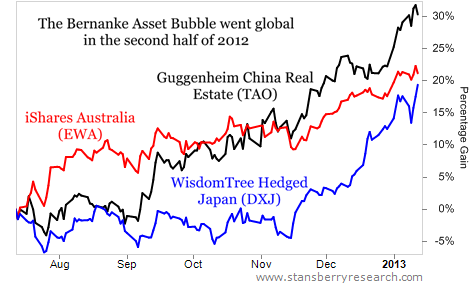 Hong Kong/China real estate stocks (NYSEARCA: TAO) are up over 30% in six months. Australian stocks (NYSEARCA: EWA) are up about 20% over the same period. And Japanese stocks (NYSEARCA: DXJ) are up 18%.
It's clear that the Bernanke Asset Bubble has taken hold across the globe. More important, the stocks in these countries are still dirt-cheap. Take a look at Germany, for example…
Whenever German stocks get this cheap, they have a history of going on dramatic, multi-year runs higher.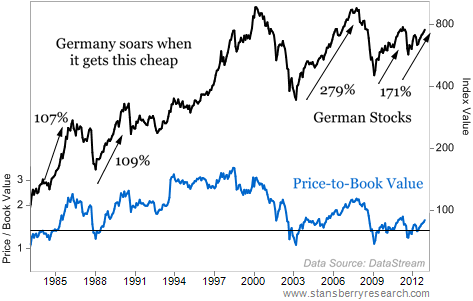 This is exactly the kind of set-up we dream of: super-cheap values… in a market where nobody is interested… and a solid uptrend is in place. My recommendation of  iShares Germany Fund (EWG) is up 35% in six months.
This is a once-in-a-lifetime opportunity!
The new, Global Bernanke Asset Bubble will cause these markets to hit new all-time highs. If you don't already own global stocks, you should. We have an enormous opportunity to make big gains over the next few years.
If you already own stocks from around the world, don't be in a hurry to sell… Give these investments more time to cook. They aren't done yet. We could have a couple more years of fun.
In the Global Bernanke Asset Bubble, anything is possible. All of these markets could move to heights never thought possible. Don't miss it.
Good investing,
Steve
[ad#stansberry-ps]
Source: DailyWealth