It's not too late to sell short natural gas.
A few weeks ago, we pointed out that natural gas prices had enjoyed a terrific run – up nearly 100% in just seven months.
Despite the fact that natural gas inventories reached a record-high 3.92 trillion cubic feet last month, natural gas was trading at its highest price of the year.
That didn't make a lot of sense. Normally, increased supply (or reduced demand) forces prices down – not up. So we speculated traders might have a chance to profit on the downside as the laws of supply and demand return to the natural gas market.
So far, so good…
As you can see in the chart below, natural gas has fallen 10% over the past month. Take a look…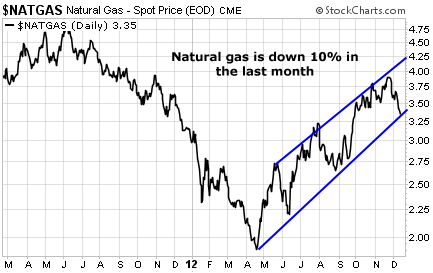 At $3.35 per million British thermal units (Btus) – a traditional measurement for energy – natural gas closed [on Thursday] right on the support line of its rising channel.
[ad#Google Adsense 336×280-IA]This is a logical place for the price to bounce.
If you shorted it last month, you can lock in a solid gain by buying it back right here.
But be ready to short it again.
Natural gas inventories increased by another 2 billion cubic feet [two weeks ago].
Total inventory is now at 3.806 trillion cubic feet.
That's 8% higher than the five-year average for this time of year, and 1.3% higher than where it was last year – just before natural gas prices collapsed.
Still… the price has been down for six straight days… And the chart is now sitting on support. So the price is due for a bounce. If the trend has turned lower, though, the chart should form a lower high. The price of natural gas should remain below last month's high of $3.90.
A bounce up to $3.75 looks possible. And that looks like a good spot at which to short it again.
Aggressive traders can use the ProShares Ultra Natural Gas Fund (NYSEARCA: BOIL) to trade the trends in natural gas prices. BOIL is a leveraged ETF. So it's volatile and not for the faint of heart. Daily moves of 5% or more are common.
But as you can see from the following chart, anyone who shorted BOIL shares last month is looking at a 30% gain today…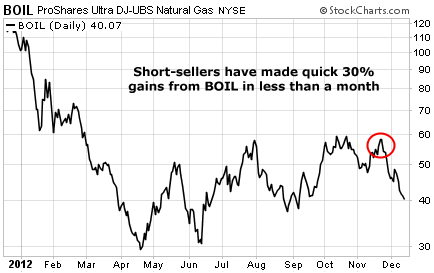 If the price of natural gas bounces – as I expect it will soon – BOIL might be able to rally back up to and over the $50 area. That looks like a good place at which to short it again.
Best regards and good trading,
Jeff Clark
[ad#stansberry-ps]
Source: The Growth Stock Wire