The junior resource sector is approaching a "line in the sand"…
The Toronto Venture Exchange is home to over 1,700 small resource companies, like gold exploration firms, small oil producers, and prospect generators.
These stocks are capable of incredible, hundreds-of-percent booms… and brutal, 75%-plus busts.
I spend hours each week poring over information on junior stocks, trying to sleuth out the best… And I've learned one critical fact over the years: When the overall trend is bearish, it doesn't matter how good the company or how great the deposit. In the end, they all bust.
[ad#Google Adsense 336×280-IA]And right now, the sector looks ready to bust again.
For nearly two years now, the overall trend in the Venture Exchange Index has been bearish.
Then late this summer, it looked like the trend might have finally reversed.
The index made a series of "higher highs" and "higher lows."
But since October, the trend has turned back down.
The Venture is in danger of violating its June low.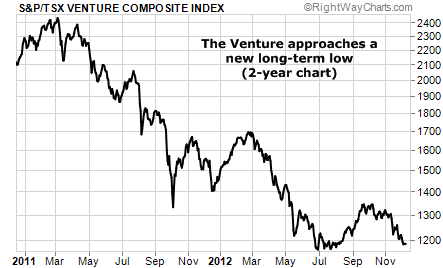 This latest turn down coincided with the U.S. elections and the ensuing fight over the "fiscal cliff." But once the market moves beyond the "fiscal cliff" fiasco, global and domestic economic conditions should continue to recover. That will boost commodity prices… and perhaps the price of small resource stocks.
In the meantime, I'm finding good values here. Companies that own promising projects are going for peanuts. I'm building a "wish list" of stocks that have the best deposits and the best management teams. I know hedge funds and big-money investment managers are doing the same.
But before we turn into bulls on the sector, we need to see this index turn away from its recent lows and start working higher. I'd like to see this index climb above 1,300 before getting aggressive with purchases. By waiting for a bit of price strength here before buying, we'll avoid big losses if the downtrend continues.
Good investing,
Matt Badiali
[ad#stansberry-ps]
Source: The Growth Stock Wire