There's a little, faded yellow sticky note posted in the upper right-hand corner of my computer monitor. It reads…
"Buy stocks on December drops."
I put it there a few years ago to remind me of the right strategy to use this time of year…
December is the second-best-performing month of the year for the stock market (April is first). And most of the market's gains over time occur in the six-month period between November and April.
[ad#Google Adsense 336×280-IA]So it makes sense to be looking to buy stocks this month.
You can't just buy at any price.
It's rarely a good idea to chase stocks higher into overbought conditions after an extended upward surge.
But buying after sharp December declines often works out well.
For example, back in 2008 – in the midst of the financial crisis, the S&P 500 fell hard in late November and bottomed on December 1 at 830.
By December 31, 2008, the index was at 930. That's a gain of more than 13% for the month, with most of those gains coming in the final two weeks.
In 2009, the S&P 500 bottomed on December 10. It gained more than 3% by the end of the month, and more than 6% by mid-January.
In 2010, stocks bottomed early in December and then rallied 5% over the next four weeks.
And last year – where the action leading up to the December 19 bottom in stock prices looks eerily similar to what we're seeing this year – stocks gained almost 6% in the final two weeks of 2011.
Take a look at this chart of the S&P 500 and notice the similarity to last year…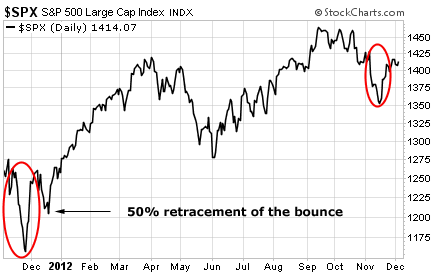 Stocks fell hard in November 2011, reached deeply oversold levels, and then bounced just as hard. The S&P 500 got sharply overbought by early December.
The decline into mid-December 2011 served to lessen the overbought condition, retrace 50% of the bounce, form a higher low, and set the stage for a strong intermediate-term rally.
It looks like we may get that same sort of action this year. We've already seen the sharp November decline and the equally sharp rally. A solid pullback now that forms a higher low may present a tremendous buying opportunity for a strong rally into April 2013.
As I mentioned last week, I'm not a big fan of buying stocks with the S&P trading so close to my year-end target of 1,430. There just isn't enough upside potential to justify the risk.
But if we get action similar to last year – and the S&P retraces a good portion of the recent bounce – that will be a tremendous buying opportunity.
Best regards and good trading,
Jeff Clark
[ad#stansberry-ps]
Source: The Growth Stock Wire