The trend in copper is bullish, and this time it's for real.
Back in September, I warned investors to beware of the rally in the copper price. From August to September, copper rallied 15%.
Investors were responding to the latest round of U.S. quantitative easing. But I knew that China – the world's largest consumer of copper – was sitting on a huge supply. That massive supply was going to kill any rally.
And as you can see from the chart below, that's exactly what happened. After making a new high in mid-September, the copper price fell 12% over the next eight weeks to bottom in mid-November.
Since then, it's rallied 8%. And I think it's going to keep heading higher.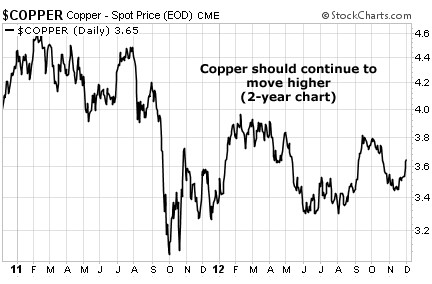 Once again, China is making money selling goods made of copper.
[ad#Google Adsense 336×280-IA]China's manufacturers' purchasing index (a measure of growth or contraction in that sector of China's economy) hit a 13-month high.
And China's exports are once again rising.
That should take care of China's copper surplus.
So while September's rally in the copper price was premature, the recent rise, supported by data from China, looks like the real thing.
Here's what I told readers of my S&A Junior Resource Trader on Monday:
Remember, copper is used in all kinds of manufacturing, so an uptrend in copper prices is usually one of the earliest signals that the world's economy is healthy. That's why we sometimes call it "Dr. Copper"… because it gauges the world's business activity better than any PhD economist.

The rise in copper over the last few weeks is bullish and is solid evidence that China's economic situation might not be as bad as everyone thinks. Recent manufacturing data out of China show that things are better than the market believed they were even a couple weeks ago.
The market action is confirming the improving fundamentals. Copper has managed to hold above its recent lows around $3.35 per pound. It has also strung together a bullish series of "higher highs and higher lows." This is all positive price action.
We're long copper in my S&A Resource Report, too. We bought Southern Copper (NYSE:SCCO) back in January. We're up 25% so far, including dividends.
I told readers to buy Southern Copper up to $35, so it still represents a great opportunity for investors. You could do as well with giant copper miner Freeport-McMoRan (NYSE:FCX). Another stealth copper play would be major gold miners Barrick Gold (NYSE:ABX) and Newmont Mining (NYSE:NEM). Both generated about 12% of revenue from copper last year.
With copper's rally acting as a tailwind, it makes sense to own copper producers here.
Good investing,
Matt Badiali
[ad#stansberry-ps]
Source: The Growth Stock Wire