"China has been very much out of favor with international investors," Peter Churchouse writes in the latest issue of the Asia Hard Assets Report.
Peter, you may recall, is one of the true pioneers of emerging-markets investing. "China stock indexes have been major underperformers…"
Ah… now this is what I like to see! Why? Huge gains start from "very much out of favor."
[ad#Google Adsense 336×280-IA]You might not know the history here… But Chinese stocks are prone to massive booms and busts.
They can quickly swing from "very much in favor" to "very much out of favor."
And investors who time the moves right can make a lot of money…
During the last big swing, Chinese stocks soared nearly six-fold in just two years (roughly 2006-2007).
The Shanghai Composite Index, which tracks the largest and most important Chinese companies, climbed from about 1,000 to 6,000.
The index then crashed below 2,000 in less than a year. Today, it's still below that level. Take a look…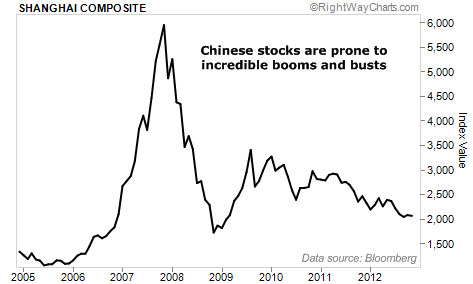 After a 70% sustained decline, Chinese stocks are once again "very much out of favor" with investors. China is out of the news.
The thing is, Chinese stocks today are much cheaper than they were at their bottoms in 2005 and 2007…
The Shanghai Composite Index now trades for the cheapest price-to-earnings (P/E) and price-to-book (P/B) ratios we've ever seen. Today, you can buy this index of blue-chip Chinese companies for just 7.4 times forward earnings and 1.1 times forward book value. That's crazy-cheap…
This index traded for over 40 times earnings in 2007. And over the last 15 years, its average P/E ratio has been over 30… nearly three times more expensive than where it trades today.
Take a look:
Remember… Chinese stocks are prone to booms and busts. Based on history, the Shanghai Composite Index can easily return hundreds of percent once it gets going.
Chinese stocks could take off at any moment. And the gains can be huge, as we're starting from the cheapest point in history (based on the P/E and the P/B ratios).
But we aren't buying China today…
The thing is, the trend in the Shanghai Composite Index is down. It is hitting new lows almost daily. China is clearly still in "bust" mode.
Our opportunity in China will be great – someday. But we don't want to try to catch a falling knife. We must wait for the uptrend to begin. When it returns, hundreds of percent gains are possible. Remember… last time around, this index soared six-fold in less than two years.
Today, Chinese stocks are record-cheap. And China is finally out of the news. Our opportunity to buy should be here soon.
For now, keep the Market Vectors China Fund (PEK) on your watch list. It's our one-click way to trade the Shanghai Composite Index. As I write, it's making an all-time low. I'll let you know when it's time to jump in.
Good investing,
Steve Sjuggerud with Brett Eversole
[ad#stansberry-ps]
Source: DailyWealth