Stocks are down 8% in the last month. The Dow has shaved 1,000 points since its recent high.
This is the moment we've been waiting for… Investors are scared. And we're ready to step in. Specifically, one of our favorite DailyWealth trades is now record-cheap. It's one of the best opportunities to buy we've ever seen…
Today, we're poised for a 58% gain in dividends alone over the next two years.
[ad#Google Adsense 336×280-IA]Importantly, the government – as I'll explain – has given us the "all clear" through 2014.
So we can make this trade safely, with limited downside.
I'm talking about one of the best government-created opportunities in history… what my colleague Steve Sjuggerud calls "virtual banks."
Longtime readers will be familiar with this story.
Steve fully explained the opportunity here. In short, "virtual banks" act like regular banks, borrowing money at a low rate and investing at a higher rate.
They earn the interest rate spread (the difference between what they pay for money and what they earn on money).
Since the Federal Reserve now holds short-term rates near zero today, Annaly (NLY) borrows at a very low rate. And we have a promise from Fed Chairman Ben Bernanke that rates will stay low for two or more years.
That means our opportunity in Annaly should last at least through the end of 2014. And based on our research, the Fed will tell us exactly when to sell.
The below table shows a simple system for trading Annaly shares. We buy when the Fed begins to cut rates, and we sell when rates increase…
Importantly, thanks to the recent selloff, now is a better time to buy Annaly than we've seen in more than a decade… At a 13% discount to book value, Annaly is at its cheapest level since 1998.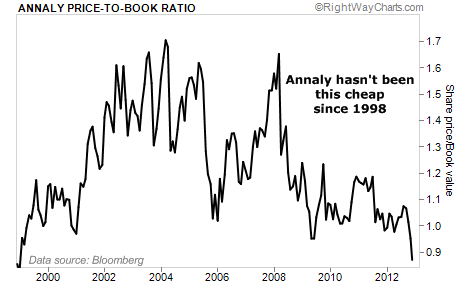 The stock is so cheap, it's hard to imagine it falling much more. And a return to 1.2 times book – which I believe will happen in the next two years – would mean a 38% capital gain from today's price.
In addition, Annaly's current dividend yield is 13.8%. The company has cut its dividend several times over the past few years. And investors are worried about more cuts.
I'm not… Annaly could cut its dividend another 25% and still yield over 10%. Where are you going to find a better income stream in today's near-zero-percent world?
I believe all the bad news is "baked in." Investors have fled so we need to be ready to step in.
Today, Annaly trades for its lowest price in over a decade. An increase to 1.2 times book means a 38% capital gain. And we should see at least 10% annual dividends over the next two years.
Add it up, and you'll see buying today should lead to a safe, 50%-plus return by the end of 2014. This is one of the best opportunities we've ever seen to buy shares. Don't pass it up.
Good investing,
Brett Eversole
[ad#stansberry-ps]
Source: DailyWealth