In five days, my beautiful bride and I will celebrate our 20th wedding anniversary.
She believes a brand-new, 2013 Range Rover is the appropriate gift to mark such an occasion. But I've been told platinum is the traditional 20th anniversary gift.
That's a good thing, because Range Rovers aren't on sale. Platinum is…
[ad#Google Adsense 336×280-IA]Platinum spiked higher along with all the other precious metals a couple months ago in anticipation of another round of quantitative easing.
But since peaking above $1,700 per ounce one month ago, the price of the shiny white metal has nose-dived by almost $200.
Now it's trading near $1,500.
It's a bargain at this price – especially if you compare it to gold.
You see… platinum normally trades at a premium to gold.
Sometimes it's just a small 10% or 20% premium. Other times – like in early 2000 – platinum could be twice the price of gold… or more.
Today, platinum is trading at a discount to gold. To put it another way… platinum is cheaper now relative to gold than it has been at any time during my 20-year marriage.
Just look at this chart…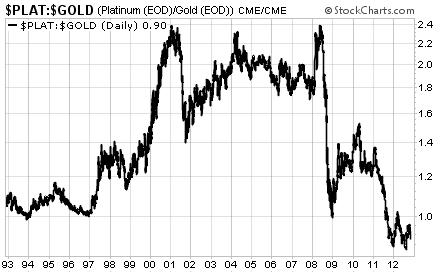 This really is an unusual situation. Platinum trades at only 90% the price of gold. And as you can see from the chart, this really hasn't happened before… at least not in the past 20 years.
Everyone is talking about how precious metals like gold and silver have to move higher over time because global central banks are rushing to print money. But nobody, it seems, is paying any attention to platinum.
So as I hunt for something platinum to give to my wife on our 20th wedding anniversary, I'll be buying a little extra as an investment.
You might consider doing the same.
Best regards and good trading,
Jeff Clark
[ad#stansberry-ps]
Source: The Growth Stock Wire