Don't hide from this stock market decline.
Stocks are selling off. The S&P 500 is down 4% over the past week. It has given back all its gains since the Fed announced a third quantitative easing program last month. And it looks like stocks still have further to fall.
But rather than joining the herd and stampeding away from the market, traders should be looking for stocks to buy in anticipation of a year-end rally…
[ad#Google Adsense 336×280-IA]Just as this current correction set up similarly to the correction in May, the recovery is likely to look a lot like the rally we got this past summer.
The best low-risk trades that formed in June and July are what we should be looking for today.
That means traders should be on the lookout for "inverted head and shoulders" patterns.
An inverted head-and-shoulders pattern usually signals a reversal in trend from a bear market to a bull market…
And it can lead to powerful profits if you know what to look for.
In the chart below, you can see how this pattern played out for clothing retailer Nordstrom (JWN). The left shoulder formed as the stock hit a low point in May and then bounced. On the next decline, JWN dropped to a lower low. That formed the "head" of the pattern. The next rally failed to form a lower high. Instead, JWN bounced all the way back up to the previous high of $51 and formed a "neckline." That was the first clue the chart could be forming an inverted head-and-shoulders pattern.
Finally, JWN dropped back down in late June, but held above its previous low. This formed the right "shoulder" of the pattern. The next move higher pushed the stock back up and over its two previous high watermarks. And it was off to the races from there…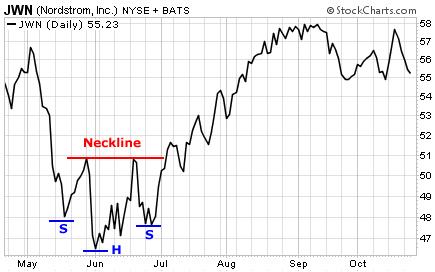 If stocks are going to experience a year-end rally – just as they seem to do nearly every year – your best trade setups are going to come from stocks with clearly defined bottoming patterns.
The inverted head-and-shoulders pattern like we saw in Nordstrom is a great example. Be on the lookout for it. It can often lead to huge gains. And the next time I see another opportunity, I'll let you know…
Best regards and good trading,
Jeff Clark
[ad#stansberry-ps]
Source: The Growth Stock Wire