Editor's note: Today, we continue our series that addresses the No. 1 concern we're hearing from readers: that inflation will destroy the power of their savings. No one has thought more about this idea than Porter Stansberry. And we're featuring five simple, practical ideas for safeguarding your wealth. Read yesterday's here.
In the last three years, precious metals have soared.
They're soaring in response to a prediction I've been making since 2008 – that the U.S. government will do everything in its power to prevent a deflation in asset prices. This includes the shameless printing of dollars in order to prop up our rotted banking system… which is the plan, according to the Fed's most recent statement, out last month.
[ad#Google Adsense 336×280-IA]As a result, gold – the "real money" wealth hedge – is within $150 of an all-time high.
And while I'm a proponent of owning gold and silver bullion to protect yourself from a dollar crisis, there's another excellent way to get out of paper dollars and into productive, "real" assets.
It's a long-held secret of the world's wealthiest people…
Buy timber.
Timber has long been a hedge for the wealthy against inflation.
In addition to providing good risk-adjusted returns, timber has also been a non-correlated asset. In short, when stocks fall, timber usually doesn't. And because you only have to cut down your trees when prices are good (timber doesn't spoil), timberland is generally a low-volatility asset.
The best way for individual investors to buy timber is through the well-established, large timber real estate investment trusts (REITs): Plum Creek (PCL), Rayonier (RYN), and Potlatch (PCH).
Because these companies are structured as REITs, 90% of what they make goes to shareholders in the form of a dividend. They all yield at least 3.3% right now.
In terms of long-term performance, let's look at two five-year charts for Rayonier. First, we have the price appreciation of RYN (the black line) plotted against the Vanguard REIT exchange-traded fund (VNQ, the blue line). VNQ holds apartment, shopping center, and office REITs.
Notice the "boring" timberland investment has done far better than developed real estate.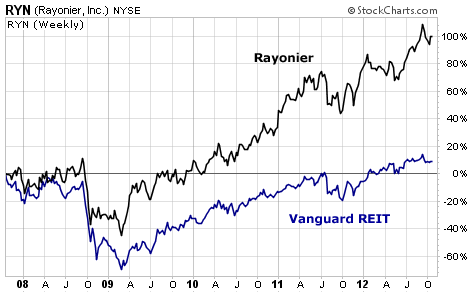 Now, let's take a look at how RYN has done against the entire S&P 500 over the last five years.
Again, the dumb trees have done better than the smart people. Investors with RYN in their portfolio have done extraordinarily well.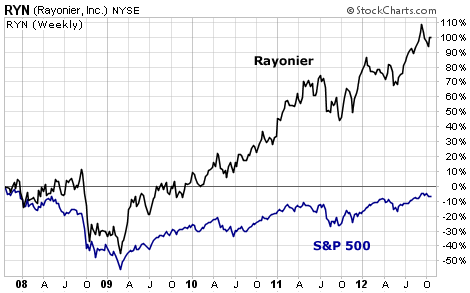 With Fed Chairman Ben Bernanke ready to print money should the economy remain sluggish, it's vital that you have a portion of your wealth in crisis hedges… in real assets like productive land, gold, and silver.
Above $1,700 per ounce, gold is screaming at you to do this right now. Start your crisis hedge program with gold and silver bullion.
And consider timber. As you can see from the charts above, it's a time-tested way to get out of cash and conventional equities and earn higher returns, with much less risk.
Good investing,
Porter Stansberry
[ad#stansberry-ps]
Source: DailyWealth