In the Bernanke Asset Bubble, precious metals WILL be the ultimate winner.
But everyone already knows that…
And that's actually becoming a real problem, as I'll explain today. In short, based on history, it could mean a double-digit percentage fall in the price of platinum…
While I believe precious metals in general are headed higher over the long run, I'm in no hurry to buy metals like platinum today. It could fall by 10% or more in the next two months. Let me explain…
[ad#Google Adsense 336×280-IA]Precious metals have soared in the past two months.
Platinum, in particular, has jumped from below $1,400 per ounce to near $1,700 in just the last two months alone.
It has soared in part because of the Bernanke Asset Bubble.
As my colleague Steve Sjuggerud explained last month…
The basic idea is that [Federal Reserve Chairman Ben Bernanke] will keep interest rates lower than anyone can imagine, for longer than anyone can imagine… and that will cause asset prices to soar.
That includes stocks… as well as real estate and precious metals.
Everyone knows platinum (and other precious metals) could soar from here. And that's the problem… Everyone already knows, so everyone has already bought.
At this moment, there's nobody left to buy – there's nobody left to push the price of precious metals up right this second. So the risk is on the downside now.
Platinum is the most extreme example. Investors are far more bullish on platinum now than any other time in history…. And based on history, this condition could lead to a 10%-plus fall in prices over the next two months.
It's easy to see in this chart: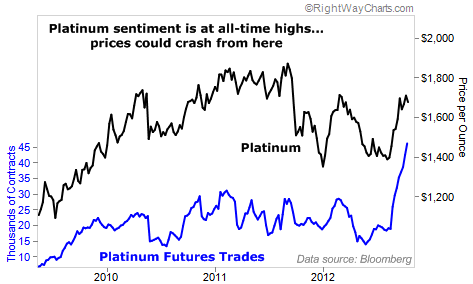 The blue line represents bets made by platinum futures traders. When the line is high, traders expect higher platinum prices. And when the blue line peaks, platinum prices tend to fall.
As you can see, traders are more bullish today than ever before. The numbers have blown through the past highs.
As I said earlier, traders are so bullish right now, everyone who wants in on this trade is already in. There are no more buyers. What's more, all those buyers will have to close out their positions at some point. And when that happens, platinum prices can (and do) crash.
That's exactly what happened the last five times platinum prices peaked. Take a look…
On average, platinum fell 13% in just two months after sentiment peaked. But sentiment is so high today, things could get much worse…
Platinum recently hit a new high. Meanwhile, demand might be falling…
The metal's main industrial use is in cars. Asia is a major global car market. (In September, China's auto sales were 35% higher than in the U.S.) But on Friday, the International Monetary Fund cut its outlook for economic growth in Asia.
Because traders are at such a bullish extreme today… and because of weakening demand for platinum in cars, I believe platinum is ripe for a pullback over the next few months.
Of course, this doesn't HAVE to happen…
As I explained last month, sentiment highs don't always mean a crash in prices. But in this case, I think more downside is a very real possibility.
And while platinum is the most extreme case, you can find extreme optimism in all precious metals today. Gold, silver, and palladium are all hitting new highs in sentiment.
Over the long term, I'm still bullish about precious metals – platinum included. As the Fed continues to print money, precious metals (and other assets) could soar higher than anyone believes is possible.
But investors should avoid buying precious metals today. In the case of platinum, we could easily see a 10%-plus fall over the next few months.
Good investing,
Brett Eversole
[ad#stansberry-ps]
Source: DailyWealth