The iPhone 5 sold more than 5 million units last weekend.
Amazingly, that's over 1 million more phones than Apple sold at the iPhone 4S launch last year.
The huge sales number is one more reason Apple can offer a "pay raise" to its shareholders. It's already pledged to pay $10 billion-plus in dividends over the next 12 months. It could easily double that.
In fact, Apple could easily double its dividend today. And there are dozens of big businesses in the same position.
[ad#Google Adsense 336×280-IA]Based on history, the country's largest companies could give investors a "pay raise" of 45% over the next few years.
Let me explain…
In January, I told DailyWealth readers why the income they receive from stocks could soar.
In short, the "payout ratio" on U.S. stocks was historically low… Dividends had to move higher.
Here's what I said…
Right now, the S&P 500 only pays 29% of its earnings in dividends. That's near an all-time low. Its long-term average payout is 47%. That means most S&P 500 companies could massively increase their dividends.
Today, we've already seen the start of these increases. Tech giant Cisco, for example, increased its dividend an enormous 33%. And it's not the only one…
Take a look…
All these companies have seen big dividend increases in 2012. But their payout ratios are all 32% or less. In other words, they're paying out less than one-third of their earnings.
So their dividends could still massively increase from here.
The entire stock market is in a similar situation. Even after the big dividend increases we've seen this year, the S&P 500 is still paying a small percentage of its overall earnings in dividends…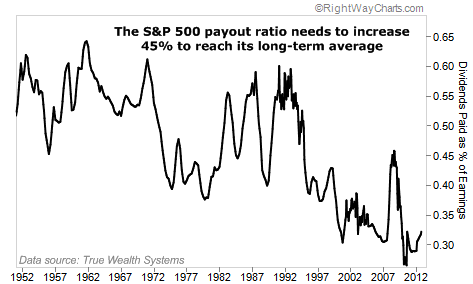 The S&P 500's long-term payout ratio averages around 47%. That's a potential increase of 45% from today's level… just to return to the long-term average.
Of course, I don't think the entire market will double its dividend tomorrow. But we're in a situation to see consistent, double-digit dividend growth for the next several years.
Increasing dividends could flood new money into the stock market, pushing overall prices higher. We can see this happen by looking at the "Dividend Aristocrats." This is a simple index that only includes companies that have raised their dividends every year for 25 years.
In the last five years, the Dividend Aristocrats are up 37%. The overall market is up just 5%. You see, when companies increase their dividends, investors are willing to "bid up" the shares. So rising dividends often lead to capital gains as well.
If you own dividend-paying stocks, expect to see raises in your income from here. If you don't own them, it's not too late to get in on this long-term idea. There's still plenty of room for more "pay raises" from stocks.
Good investing,
Brett Eversole
[ad#stansberry-ps]
Source: DailyWealth