One of the world's most critical manufacturing materials rocketed into a new uptrend [two weeks ago.]…
The price of copper broke out of a three-month-long sideways move and rocketed 15% higher. Right now, it's within spitting distance of levels it hasn't seen since early last summer.
Copper's surge boosted the share prices of big miners, too. Southern Copper (SCCO) is near 18-month highs. Freeport-McMoRan (FCX) rose 23% in about two weeks.
[ad#Google Adsense 336×280-IA]Traders might be picking off great gains here… But investors should be very careful before wading into the sector.
This rally could see a dramatic reversal…
The main catalyst for the surge in the price of copper was the U.S. Federal Reserve's new stimulus program.
[On September 13th], Fed Chairman Ben Bernanke announced another massive round of "money printing."
The Fed's latest quantitative easing plan calls for the government to buy $40 billion worth of mortgage-backed securities per month to invigorate the housing market and national employment figures.
It's also going to cause commodities to soar. The Fed's stimulus program creates new paper money out of thin air. So valuable "real" stuff – like oil, gold, or copper – will rise in price.
You can see it at work in the chart below. Copper was rising in the weeks leading up to Bernanke's announcement. Traders were anticipating more stimulus. And when the announcement came, prices continued even higher.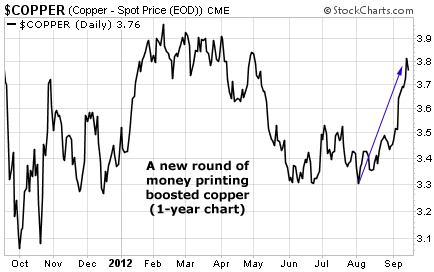 But once the glow of fresh money wears off, global economic woes may push the price of copper back down…
The problem is China, which is the world's largest consumer of copper. It consumes about 40% of the world's supply.
In the first half of this year, China continued to buy copper, essentially restocking its supply. But by May, the amount of copper in warehouses was near all-time highs. There is so much copper in warehouses – and so much money tied up in it – that Chinese businesses are using the copper as collateral to secure loans.
In other words, the world's largest consumer of copper has a huge supply of it. Worldwide production could grow by 5% or more. And world copper demand is only forecast to grow by 0.9% this year.
That's trouble for copper bulls. And China is in danger of missing its annual growth target for the first time in 14 years. If we see more weakness there, the trouble will grow.
That's why, despite copper's new uptrend, I'm not rushing into any long-term investment in copper producers yet. If you're an investor who got in before the recent rally, consider tightening up your stops here.
The Fed is floating copper on an ocean of new money. But I'm watching for the tide to wash copper back out.
Good investing,
Matt Badiali
[ad#stansberry-ps]
Source: The Growth Stock Wire