China bears, watch out. There's been a bull sighting in the streets of Shanghai.
We've been bearish on Chinese stocks for most of the past two-and-a-half years. During that time, the Shanghai Stock Exchange Composite Index (the SSEC) has fallen 37%. And there really hasn't been any reason to change our bearish stance. Heck, we even reiterated our dislike for Chinese stocks just three months ago.
But after last week's action, it may be time to turn bullish. Take a look…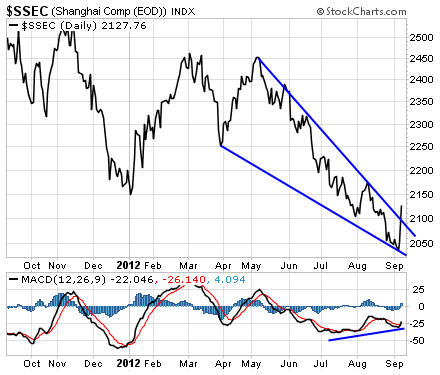 The SSEC just busted out to the upside of a several-months-long falling-wedge pattern.
[ad#Google Adsense 336×280-IA]As we've seen many times before, these sorts of breakouts often signal important intermediate-term trend changes – especially when there's positive divergence on the MACD momentum indicator (the bottom part of the chart).
Typically, when a chart breaks out of this pattern, it explodes higher toward resistance – which is around 2,170 in this case – and then comes back down and retests the former resistance line of the wedge.
That's when bulls get their chance to buy.
(Of course, we all know China's economy is slowing. But studies show there is no correlation between GDP growth and stock returns.And when you buy cheap, beaten-up stocks, you can make money no matter what a country's financial condition. For instance, Greek stocks are up 40% since June… And we know what a mess that country is in.)
Being short Chinese stocks has been a profitable strategy for the past couple years. But now, it looks like the long-term bear market is ending…
Traders should cover their bearish China bets now… or at least tighten up the stops on any profitable short sales. Then, if the SSEC drifts back down and retests its breakout level around 2,070, aggressive traders can start buying China. With the index down almost 40% from its high, there's bound to be a few good bargains.
Best regards and good trading,
Jeff Clark
[ad#stansberry-ps]
Source: The Growth Stock Wire