You don't need to pinpoint the next great gold discovery to make a fortune in gold stocks…
And you don't need to catch the start of a big bull market in gold…
There's a way to profit that's safer than buying tiny explorers… And it can work even if gold doesn't move up by a dollar.
Good miners are always exploring for and building the next mine.
[ad#Google Adsense 336×280-IA]Think about it like LaGuardia Airport… There are some planes at the gate, some landing, and some still in the air.
A good miner has producing mines… But it also has several in various stages of development.
And as long as it's growing its production, shareholders can profit.
A great example is Eldorado Gold (EGO), a global gold miner with mines primarily in Turkey and China.
In 2005, Eldorado Gold sold just 66,804 ounces of gold.
By 2011, it produced nearly 10 times as much…
And as you can imagine, this was great for its shareholders. Shares of Eldorado Gold soared more than 400%.
Many of you will correctly point out that during those seven years, the price of gold soared as well. But even if gold hadn't budged, Eldorado's revenues would have gone up nearly tenfold. You can see what a difference that kind of growth makes in the chart below.
It shows Eldorado in black versus the big gold miners index (the HUI). And as you can see, Eldorado significantly outperformed the average big gold stock.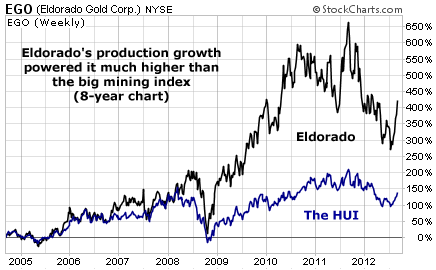 That several-hundred-percent difference is due to Eldorado's steady increase in production. You see, the gold miners in the HUI haven't been as diligent at increasing gold production…
Eight companies make up 67% of the HUI today. Only four of them grew production from 2005 to 2011. That's a terrible record. In fact, the HUI's gold production from those eight companies grew just 11% over that period. That's why Eldorado's shares blew the HUI away.
And there are plenty of gold stocks poised to do the same today…
Take $8.5-billion gold miner Agnico Eagle (AEM), for example. It produced 850,000 ounces of gold in 2011 and will produce 1.1 million ounces by 2014. If the price of gold remains flat over the next two years, we should still see Agnico Eagle's share price rise at least 30%, simply from the production growth.
Another example is Yamana Gold (AUY). The company will grow its gold production 46% by 2014 from three new projects in Brazil. Its share price should move up as well.
For those of you interested in picking through the gold miners today, look for those companies with a solid portfolio of new production coming soon.
You'll be rewarded, even if the price of gold doesn't cooperate. And if it does… the rewards will be that much bigger.
Good investing,
Matt Badiali
[ad#stansberry-ps]
Source: The Growth Stock Wire