WHAT A RISING GREENBACK MEANS FOR STOCKS
The S&P 500 has gained 6% over the past six weeks. During that same time, the dollar dropped 4%.
[ad#Google Adsense 336×280-IA]The dollar and the stock market tend to run in opposite directions.
That has been the case for the past few years.
And it's another reason investors should be a little cautious right now.
As you can see from the chart below, the U.S. dollar index is approaching support at about 81.
The red lines also show how the chart is tracing out a bullish falling-wedge pattern. These patterns often break out to the upside.
So the odds are starting to shift in favor of a short-term bounce in the dollar – which translates into a short-term decline for stocks.
– Jeff Clark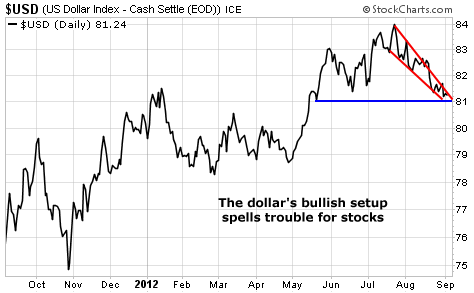 [ad#stansberry-ps]
Source: Market Notes