I know you won't want to hear today's message. But you need to listen.
Stepping out of your comfort zone today could mean big returns over the next several months.
It seems crazy. But we want to own European stocks today.
Europe has entered a stealth bull market. And the best European blue chips are paying enormous dividends.
[ad#Google Adsense 336×280-IA]Based on history, a trade here could mean 55% returns in less than two years. Let me explain…
I first showed you this opportunity in April. Here's what I wrote…
Excluding the financial crisis, European stocks are coming off their highest dividend yields in nearly 20 years.
Since 1992, we've seen dividend yields this high three times. Each opportunity led to double-digit returns in European stocks. On average, buying at today's levels led to 55% gains in just 19 months.
This is all still true today. European blue chips still pay big dividend yields. Take a look…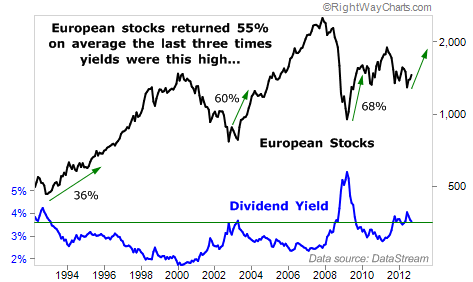 But today, the opportunity is even better. You see, we just received the "all clear" signal to buy European blue chips.
When we first looked at this setup, I told you that despite the incredible value, we had to be patient before piling into these stocks. In short, the trend was down. Buying in April would have meant trying to catch a falling knife… which we never want to do.
That was the right advice. FEZ is a fund of European blue chips. It dropped 15% from April through the end of July.
Today, however, European blue chips are in an uptrend. Shares of FEZ are up 12% in the last four weeks. For the first time this year, they're breaking above their long-term trend line. This gives me confidence that the downward momentum in European blue chips is finally behind us.
In addition to the new uptrend, European blue chips are paying enormous dividends. We can collect that 4.7% yield by owning shares of FEZ.
European stocks soared the last three times we saw dividend yields this high. Based on history, we can expect 55% returns in less than two years by buying right now.
With all the bad news you're hearing today, the idea of investing in Europe probably makes you sick. But it's the right thing to do. Shares of FEZ are the easiest way to make the trade.
Good investing,
Brett Eversole
[ad#stansberry-ps]
Source: DailyWealth