You're not hearing about it in the mainstream press, but I believe the most important economic event of our lifetimes is now underway…
This event has been spurred on by a widespread belief that oil and natural-gas resources were in a permanent decline (the concept known as "Peak Oil").
Because of this belief, investors and corporations spent an unprecedented amount of capital seeking out and producing new hydrocarbons.
[ad#Google Adsense 336×280-IA]Today, those investments are bearing out to a degree almost no one could have imagined…
This wave of investment began in 2003.
It peaked in 2010 and 2011, when more than $1 trillion annually was spent around the world on oil and natural-gas exploration and production.
This huge rate of capital investment in oil- and natural-gas exploration and production almost doubled the oil and natural-gas industry's previous investment peak.
In real terms, the previous peak was reached in the 1970s, when the annual rate of investment topped out at around $600 million a year.
There is, of course, a natural relationship between investments in additional oil and natural-gas assets and their relative abundance. We believe that markets work… An unprecedented wave of investment in oil and natural-gas assets will lead to an unprecedented increase in oil and natural-gas supplies.
We've been warning about this since 2006, when the amount of rigs drilling for natural gas began to set new record-highs. The flood of new supplies we knew would develop has now arrived.
The charts below indicate U.S. natural-gas production reached a new, all-time high in 2011. Oil production, which had been in decline since the early 1970s, has likewise increased. According to many estimates, it will reach a new all-time high by 2017.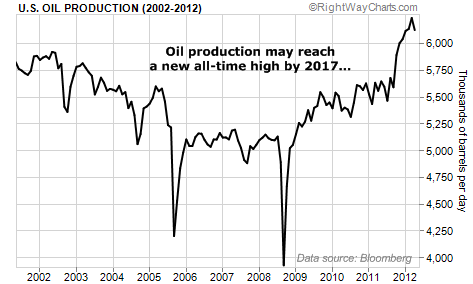 The most thorough analysis of the new oil supplies coming on line from around the world (not just from the U.S.) was conducted by Leonardo Maugeri, on behalf of Harvard University's Kennedy School of Government.
Maugeri spent his career in the oil and gas industry, tracking new fields and supplies for the Italian oil giant ENI. It's fair to say that no one knows more about the real capabilities of the world's oilfields than Maugeri. He built his database over several decades and has firsthand knowledge of these fields and the people who run them.
In a report published in June, Maugeri predicted global oil production could increase by 49 million barrels per day by 2020, representing an increase of almost 50% from the world's current production of 93 million barrels per day. This would be the largest increase to global production since the 1980s. (Note that the big increase in production of the 1980s followed the big investments made in the 1970s… this is a re-occurring pattern in the oil and gas industry.)
What's most surprising about this research is the role the U.S. is now expected to play in providing oil to the world's markets. As Maugeri explains: "Four countries show the highest potential in terms of effective production capacity growth: they are, in order, Iraq, the U.S., Canada, and Brazil."
While Iraq could certainly add tremendously to the world's supply of hydrocarbons – the country has 80 known "elephant" oilfields (5 billion barrels or more) already and has yet to experience the full impact of modern seismic technology or any enhanced recovery techniques – the political stability of that country – with its three separate ethnic regions and recent violent history – is anything but certain.
And while both Canada and Brazil have vast proven resources, the extraction cost of these reservoirs is likely to remain extremely high. Canada's oil sands are notoriously difficult to produce, and Brazil's reserves are in extremely deep, offshore locations where wells may cost $1 billion each to drill.
On the other hand, many of the new U.S. locations are relatively shallow and onshore. Most are located in areas with an extensive history of oil production, meaning easy and cheap access to existing pipelines, storage facilities, and refineries. And the size of these newly discovered oil and gas assets is simply hard to fathom.
This is the most important economic event of my life. America is on its way to being the world's largest energy producer and one of the largest energy exporters. Nobody expects this. But it will absolutely happen.
And tomorrow, I'll show you two irrefutable signs that the trend is underway… and talk about the best ways to profit.
Good investing,
Porter Stansberry
Sponsored Link: Porter Stansberry has spent the last year working on an extremely thorough presentation that tells you everything you need to know about the energy boom going on right now in America. In this video, you'll learn a tremendous amount about this situation, for free. And if you're interested in making the right energy investments over the coming years, he is offering a 100% money back guarantee on his research. You'll learn how to take advantage in the video.
Source: DailyWealth