Platinum broke out last week.
Silver exploded higher [Monday].
Now it's gold's turn to bust out to the upside.
We took a look at the shiny yellow metal just three weeks ago. But based on the action in the other precious metals, we ought to keep a close eye on gold. It's on the verge of an explosive move that could happen any day.
Just look at what happened to silver [Monday]…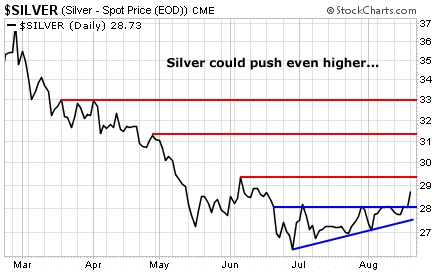 The chart had morphed into an ascending-triangle pattern (the blue lines). It was coiled tight and poised to explode higher.
[Monday's] action lit the fuse and ignited a rally that should push silver up through the first resistance line (red line) at about $29.50. Ultimately, this breakout should have enough power to test silver's April high near $33.
As you can tell from the following chart, gold has the exact same pattern…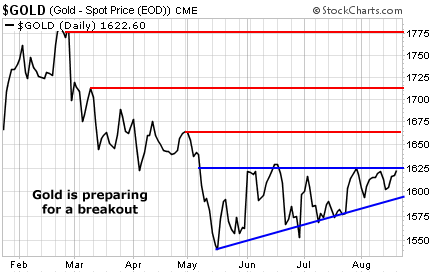 Gold has been coiling for a while now – storing up energy for its next big move. All that's happened so far, though, is a big rally in the frustration level of gold bugs as we wait… week after week… for a bullish resolution to this pattern.
[ad#Google Adsense 336×280-IA]Now, gold is approaching the apex of its triangle.
So a decision-point is near.
Silver busted higher out of the exact same pattern [Monday].
And the odds are tilting increasingly in favor of the same thing happening for gold.
We could be looking at a bullish breakout for the yellow metal.
When that happens, gold should make a quick move higher toward the first resistance level at about $1,665 per ounce. Ultimately, a move to $1,770 should be in the cards.
Best regards and good trading,
Jeff Clark
[ad#stansberry-ps]
Source: The Growth Stock Wire