HOMEBUILDER STOCKS SOAR IN A BIG "BAD TO LESS BAD" RALLY
Our "bad to less bad" homebuilder trade is turning out to be a big winner…
For much of the past year, we've encouraged readers to take a position in the homebuilding sector. We knew the advice sounded crazy.
[ad#Google Adsense 336×280-IA]After all, when we first issued our advice, the housing market was bad.
Homebuilder shares had been crushed… and sentiment toward the sector was terrible.
But regular readers know that when things are "bad," assets get so depressed and cheap, it only takes "less bad" conditions to produce huge rallies.
That's been the case with homebuilders recently.
The housing market has bottomed… and demand is picking up a little.
You can see this idea at work in the large homebuilder investment fund, ITB.
As you can see from the 18-month chart below, homebuilders suffered during last summer's correction. But as things have gone from "bad to less bad" this year, ITB has soared.
It has led the market to gain 45% this year… and more gains are likely to come.
– Brett Eversole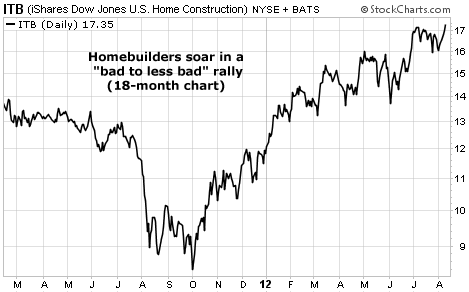 [ad#stansberry-ps]
Source: DailyWealth