"But Steve… Coke and Wal-Mart are at 12-month highs… I don't want to buy them at new highs!"
Why not?
What is your evidence that says they'll go down once they hit new highs? History actually says the opposite…
Today I'll show you that, in the past, buying these stocks at new highs would have made you a LOT of money.
[ad#Google Adsense 336×280-IA]And I'll also show you why buying at a high would have worked back then – and will today…
In yesterday's DailyWealth, Brian Hunt told you how to make money in stocks like Coke (KO) and Wal-Mart (WMT).
But readers don't want to buy these stocks at new highs.
Let's take a look at the historical record, based on data from our True Wealth Systems databases…
Shares of Coca-Cola are fast-approaching 14-year highs now.
Importantly, Coke shares soared over 1,000% – twice – AFTER hitting new, long-term highs in the past.
The chart here shows what I mean…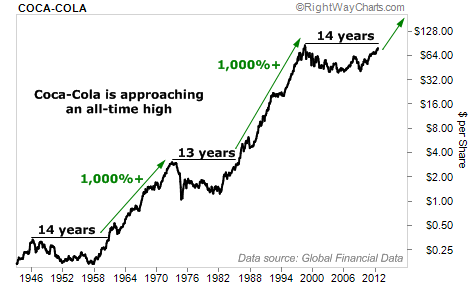 Coke peaked in 1946. It took 14 years until it hit a new high in 1960. Then, shares of Coke soared over 1,000%.
The same thing happened again in 1985… After 13 years without a new high, Coke shares hit a new high in 1985, then soared over 1,000% again.
Neither of these 1,000% gains happened overnight, of course. But as the chart shows, the rise was fairly steady.
Now – 14 years later – Coke is knocking on the door of a new high again. Should you sell Coke (like most investors would) if it hits an all-time high? Or should you buy? History says you should buy…
Wal-Mart's shares are in an even better spot than Coke's…
It took the discount retailer 13 years to hit an all-time high. But now, it's happened. So should you sell like most people would? Or should you buy?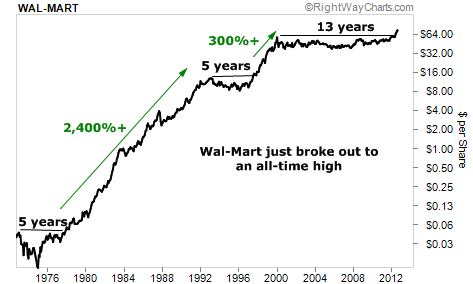 Again, it's time to buy.
But why? WHY does this "new high" thing work?
The reason is simple…
It works because the share price has gone nowhere for a long period of time… Meanwhile, the company's sales and earnings have continued to grow. The company's stock price is just starting to catch up to the company's business.
It's simple… When a company's sales and earnings soar but the stock price "goes nowhere," the natural result is the stock gets cheaper relative to its sales and earnings.
And that's exactly what has happened.
Right now, Wal-Mart is as cheap as it's been at any time in the last in 30 years. It's coming off a near-record-cheap valuation from last fall. Take a look…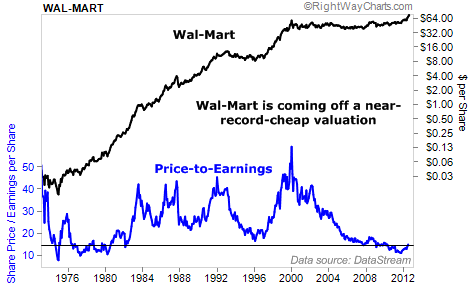 The last time it was this cheap, its future was uncertain… Wal-Mart was competing with Kmart, Sears, Montgomery Ward, JC Penney, and tens of thousands of "mom and pop" retailers. Now (outside of Target (TGT)), Wal-Mart is the last man standing.
Yes, Wal-Mart has run up this year. And yes, it is at a new 12-year high. (Heck, it's at an all-time high.) But that does NOT mean it is time to sell. On the contrary… Based on history, you want to OWN it.
And you want to own Coke, too… for the same reasons.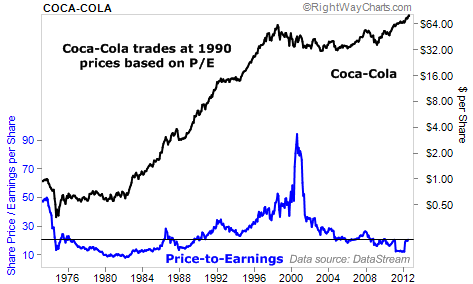 It's not just Coke and Wal-Mart. They just help illustrate the point.
The point is, right now, you have the opportunity to buy into the world's greatest brands at near-record-low valuations. Meanwhile, we're getting them when they're in solid uptrends, busting out to new multi-year highs. Sure, if you buy now, you aren't in as early as some investors… but you're still getting these stocks at great values. Plus, this trend will last for YEARS. There's plenty of room left to run.
These have been good for hundreds of percent returns (even 1,000%-plus over longer periods).
And the situation today is no different (growing sales and earnings coupled with a flat share price for a long time) than it was in the past.
Take advantage of it. Buy the world's greatest brands, at low valuations. Don't be concerned that they're near their highs. You're getting great businesses at great values. Don't miss out…
Good investing,
Steve
[ad#stansberry-ps]
Source: DailyWealth