It's happening again… the sneers, the nasty e-mails, the public ridicule… And that's just from my friends.
"How's that big stock market decline working for you?" my friend Mark asked me yesterday.
It's not working very well, of course. The S&P 500 has worked methodically higher since I started banging the caution drum a few weeks ago.
[ad#Google Adsense 336×280-IA]The S&P 500 closed near 1,400 yesterday – up 2.5% in just the past month.
So despite warning signs from the Volatility Index, the NYSE and Nasdaq Summation Indexes, and the McClellan Oscillator, owning stocks has been a profitable strategy.
Hence, the public ridicule.
Of course, that ridicule occurred back in April as well – when the market ground higher despite multiple caution signs.
Eventually, the caution proved warranted… The S&P 500 dropped 9% in May and erased all of its gains for the year.
The market is near the exact same condition today. So despite the nasty e-mails and sneers, I think it's best to err on the side of being too cautious right now.
Please understand, I'm not bearish on stocks… I still think stocks will end the year slightly higher than where they are now. But jumping onboard the momentum train when the S&P 500 approaches its high for the year and a number of technical indicators turn bearish does not seem like a good strategy to me.
Rather, it seems more prudent to use any hard declines as buying opportunities. And given the look of the following chart, we may be nearing the start of one of those hard declines right now…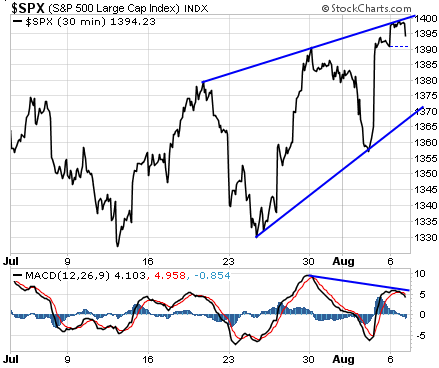 This is a 30-minute chart of the S&P 500 – which works best as a short-term timing tool. The index is tracing out a bearish rising-wedge pattern, and it is bumping up into the resistance line of the wedge. This resistance should at least cause a pause in the uptrend and a decline back toward the support line at about 1,370.
Notice, however, the negative divergence on the MACD momentum indicator. While the S&P 500 has made a recent series of higher highs, the MACD indicator is still below its July 30 high-water mark. So the momentum behind this most recent rally is weakening.
This is a good clue that the next move lower in the market might develop into more than just a small pullback toward support. It may end up retracing the entire move higher over the past two weeks… and challenge support at 1,330.
Bulls will do better waiting to buy at that level rather than chasing the market higher right now.
Best regards and good trading,
Jeff Clark
[ad#jack p.s.]
Source: The Growth Stock Wire