Sometimes you just have to scream.
"Come on!" I yelled at my computer screen as the symbol "GOLD" streamed across it in bright green lettering. "Just a couple more bucks!"
The precious yellow metal was breaking out of the chart pattern I showed you last week. If it could just close above $1,625 per ounce, it would set the stage for a much larger move higher. And we could finally buy it aggressively – which is what I've been waiting for since gold peaked above $1,900 last August.
But it didn't happen. Instead of breaking out, gold "faked out" and stumbled back into the consolidation pattern that has trapped its price for the past three months. Here's an updated chart…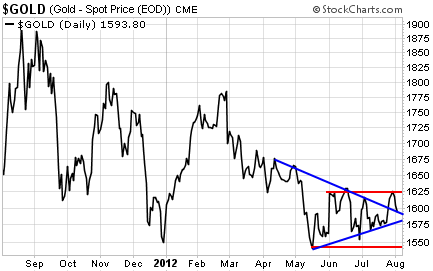 Gold did manage to break out of its consolidating-triangle pattern (the blue lines) last week. That breakout ignited a move right up to resistance at $1,625. Remember… that's the price I said gold had to get over to shift into "rally mode."
[ad#Google Adsense 336×280-IA]But that resistance proved to be too tough.
The breakout turned into a "fake out."
Gold tumbled right back to the point where it broke out of the triangle pattern.
If you're bullish on gold, this is an excellent, low-risk area to buy it.
Gold is either going to find support right here at $1,593 and bounce… or it's going to fall back into its triangle pattern and stop you out of the trade for a small loss.
Here's how I'm planning to trade it…
Buy gold here at $1,593. If it bounces, it should take another run at $1,625, and it should be easier to break above that resistance level on the second attempt. That would kick off the rally I wrote about last week, and possibly carry the metal all the way up to the February highs at $1,775.
On the other hand, if gold falls through support at $1,593 (on a closing basis), it has more support at the rising uptrend line of the triangle – near $1,575. If gold can't hold above $1,575, close your position. The metal will be on its way to testing its May low at $1,550… And if it can't hold on there, it could lose another $100 per ounce.
Buying gold here at $1,593 offers the potential upside of $182 per ounce. If support doesn't hold and gold starts to fall, you can exit the trade and take an $18 per ounce loss.
That's 10 times as much reward to risk. And that's too good to pass up.
Best regards and good trading,
Jeff Clark
[ad#jack p.s.]
Source: The Growth Stock Wire