Sometimes, all it takes is one simple chart to smash a sacred cow.
Right now, we can smash the sacred cow of Peak Oil. The chart is in today's essay.
Read investment newsletters for more than a month, and you'll come across the idea of "Peak Oil." It's a popular idea that has sold millions of books and newsletters. The idea is that oil production "peaked" in 1970, and we've used up more than half the world's oil supply.
[ad#Google Adsense 336×280-IA]Those arguments have led to predictions of soaring oil prices… and the "end of the age of oil."
The thing is, the theory was first put forward by geologist M. King Hubbert in 1957… and he was describing oil discoveries.
Oil discoveries in his day peaked in 1933 and dwindled into the 1950s. (The oil model that companies were using to explore was getting old.)
Hubbert's theory didn't take into account the radical advances in technology that we have today.
There's a saying in the oil patch: You can find oil with old ideas in new places or with new ideas in old places. The "new ideas" of hydraulic fracturing (aka "fracking") and horizontal drilling have unlocked vast sources of oil right here in the U.S.
Take North Dakota's Bakken shale, for instance. The Bakken shale is an oil-soaked package of rocks that lies beneath 90 million acres of North Dakota and Montana, as well as the Canadian provinces of Saskatchewan and Manitoba.
But 17 years ago, few geologists and engineers gave much thought to oily shales like the Bakken. In 1995, the official amount of recoverable oil from the shale was 151 million barrels. Today, thanks to new technology, we produce that much oil in a month.
Ten percent of the country's oil production now comes from the Bakken. Production in the area is up 73% over the past year. It will continue to grow… and continue to drive U.S. production to record highs.
According to the U.S. Energy Information Administration, domestic oil production hit a 23-year high in June 2012. You can see the soaring production below… and how it's shattering the idea that we are "running out of oil."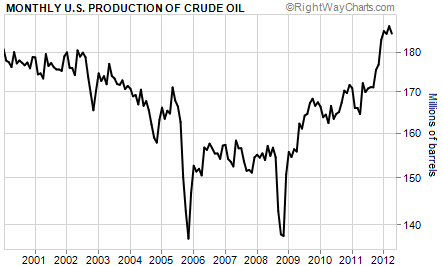 Oily shales like the Bakken lie beneath nearly every conventional oil field in the U.S. and the entire world. Not all will be productive, but a whole lot of them will…
Like the Eagle Ford in Texas, which holds another 10 billion barrels. The Monterey shale in California holds another 15 billion barrels. And the Utica shale in Ohio holds about 10 billion barrels.
Add in the Bakken's 24 billion barrels, and we're probably sitting on 59 billion barrels of recoverable oil. And that doesn't count the oil in the shale formations that are only now being targeted by the oil and gas companies. Several of these "Baby Bakkens" could be as large as the Eagle Ford or the Utica.
Here's a quick list of shales that are just now being explored…
Every one of these shales is huge. They underlie hundreds of square miles in the U.S. and Canada. They have tens of millions to billions of barrels of oil potential. And they are all just starting to be drilled. Once these shales are explored and developed, more "Bakken style" production increases will be made public.
So if you're investing with "Peak Oil" in mind, you'd better take a page from the oil industry's playbook… and update your thinking.
Good investing,
Matt Badiali
[ad#jack p.s.]
Source: The Growth Stock Wire