Oil stocks have had a great run. Now it's time for a rest… or maybe something a little worse.
The AMEX Oil Index is up 10% since I suggested buying into the sector last month. That was a good trade – set up by the oversold look of the oil sector bullish percent index (BPENER). But now the index isn't oversold anymore. In fact, it's darn close to being overbought.
Take a look…
The blue circles on the chart below show the three buy signals BPENER generated last month. The first two never really gained any traction… But the third signal exploded to the upside and oil stocks have enjoyed a year of gains in just one month.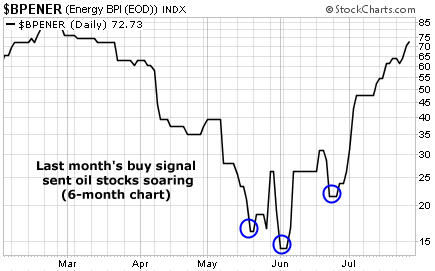 Traders should take profits now.
[ad#Google Adsense 336×280-IA]Anything above 80 on the BPENER indicates an overbought condition.
Once the index reaches into overbought territory and turns lower, it'll generate a sell signal.
On Friday, the BPENER closed at about 73.
So we're not in the "danger zone" just yet… But we're close.
And given my colleague Matt Badiali's longer-term bearishness on the sector, it's probably better to be a little bit early getting out of this trade than to be a little bit late.
In this stock market environment – where every European headline, government report, and central banker comment can cause violent swings in stock prices – traders need to focus more on protecting profits than trying to maximize them. That's why I'm booking my oil profits now.
It's not time to go short the sector just yet. That time will come. But the BPENER needs to rally a bit more first. For now, take your profits. I'll let you know when it makes sense to go short.
Best regards and good trading,
Jeff Clark
[ad#jack p.s.]
Source: The Growth Stock Wire