Investors have lots of reasons to be cautious right now…
It's not just the turmoil in Europe or the "fiscal cliff" we're running toward in the U.S. The volatility index says it's time to be careful. The McClellan Oscillator has flashed two warning signs.
And now, we have an impending sell signal from yet another indicator…
This time, it's the New York Stock Exchange Summation Index (NYSI) telling us to sell stocks. Take a look…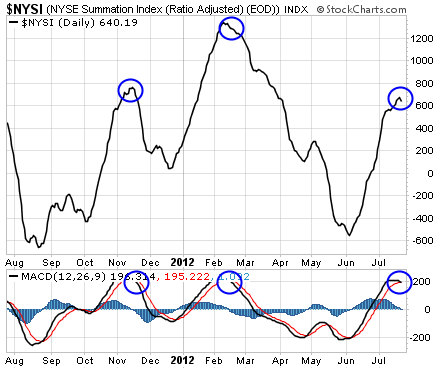 The NYSI is an intermediate-term measure of overbought and oversold conditions. Stocks are officially overbought when the NYSI rallies above 1,000.
[ad#Google Adsense 336×280-IA]They're oversold when it drops below zero.
The indicator triggers a buy signal when the MACD momentum indicator (the bottom box) extends below -200 and then turns higher.
It triggers a sell signal when the MACD moves above 200 and then turns lower.
The NYSI gave us a buy signal last month when the S&P 500 was around 1,322.
Anyone who bought stocks back then could have made as much as 5% within the past month. Now, the NYSI is telling us it's time to sell – at least for the next few weeks.
As you can see on the chart above, we've had two other sell signals over the past year. The S&P 500 fell 8% immediately following the sell signal last November. The sell signal in February was a little early, as stocks rallied for a few more weeks before finally rolling over and falling 10%.
We're on the brink of another sell signal today. There's no telling for sure what we'll get this time around. It's just one more reason to be a little careful here.
Please understand I'm not saying it's time to sell everything. We're not on the verge of Armageddon. In fact, I expect stocks will end the year higher than where they are right now. But now is not the best time to add more exposure to the stock market. You will probably have a chance to buy in at lower prices sometime in the next few weeks.
Make sure you have your stock market shopping list together. It looks like stocks will be on sale soon.
Best regards and good trading,
Jeff Clark
[ad#jack p.s.]
Source: The Growth Stock Wire