About six months ago, I showed you "the world's greatest uptrend for income investors."
This uptrend had nothing to do with stock prices, however. Actually, the two investments I described were selling at the same prices they sold at in 1998 and 1999. They were "dead money" for more than a decade.
But for anyone who knew what to look for, the uptrend was undeniable. And shortly after I wrote my essay, these two stocks skyrocketed.
[ad#Google Adsense 336×280-IA]Today, I'll show you how these "hidden" uptrends work… and how to use them to make big, safe gains.
We'll use Wal-Mart (WMT) as our example.
I've been telling readers to buy the retail giant since 2006.
During this entire period, impatient readers told me that I'd lost my mind.
They were against the idea of buying Wal-Mart because "the stock hadn't done anything in years."
You see, for the last several years, Wal-Mart has been trading around $50 a share… which is approximately where it traded in 1999.
Take a look…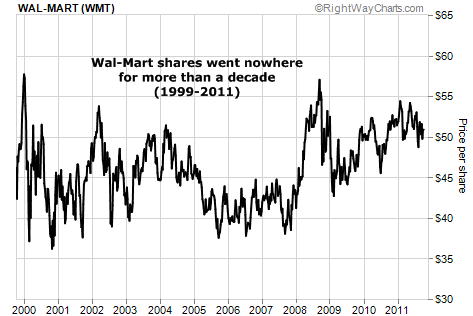 Here's the thing: The whole time we held it, shareholders enjoyed one of the market's most impressive uptrends. It was just "hidden" from most investors. But you can see it right here:
The black line is earnings per share. The blue line is annual dividends per share. They rose nearly every year for more than a decade.
The whole time the stock was going nowhere… each share was becoming more valuable.
So what looked to most investors like a terrible investment was actually becoming a better and better investment with each year that passed. The uptrend was undeniable. The stock was like a coiled spring getting compressed tighter and tighter.
Last August, Wal-Mart was trading right around 11 times earnings. That's way too cheap for one of the world's greatest businesses. The long-term average of the S&P 500 is over 16 times earnings. And Wal-Mart is a much better business than the average S&P 500 stock.
It was easy to see Wal-Mart was way undervalued last August. And finally, the spring snapped higher. Today, shares are trading at $73 apiece, nearly 50% higher than they were last year.
So if you're ignoring a wonderful, growing business simply because its stock price hasn't done anything in years, you might be making a big mistake. For long-term value investors, it's far more important to focus on the quality of the business… to look for companies that have "hidden" uptrends in their earnings and dividends… and to be patient.
As Wal-Mart's recent near-50% gain shows, when you focus on these companies, it's just a matter of time before the rest of the market catches on.
Good investing,
Dan Ferris
[ad#stansberry-ps]
Source: Daily Wealth