Oil prices are going to fall lower than you can imagine.
They've already dropped from nearly $110 a barrel in February to under $80 late last month.
They've since staged a recovery to the $85 area. But the drop is not over. In fact, I think there could be more than 50% downside from these levels.
Here's why…
[ad#Google Adsense 336×280-IA]In 2011, the U.S. consumed 22% of the global oil supply.
So what goes on in the U.S. oil market will have a profound effect around the world.
And as DailyWealth readers know, what's going on is an incredible boom in oil production.
Oil production is up 34% from its low in 2005. And it could more than triple over the next 10 years.
If the U.S. continues to produce more and more oil (which it will), we'll buy less oil from other regions, like Africa and the Middle East.
This will pull down the global price of oil.
Also, realize that the U.S. economy, while not in a recession, is still sluggish. This "near recession" condition is showing up in muted demand for oil-derived fuels. Fuel production (diesel, gasoline, and jet fuel) consumes 79% of the oil we use in the U.S. Today, global fuel demand is down 13% from its peak in 2007. Demand for gasoline and jet fuel peaked in April 2007.
The chart below shows both trends, beginning back in 1995. The data clearly show demand is down and production is rising.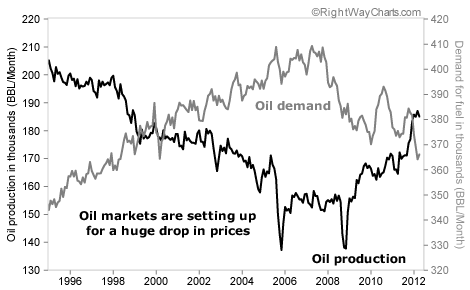 This is a recipe for a collapse in the price of any commodity… Oil is no exception.
Just how low it falls depends on several impossible-to-predict situations around the world. Europe, for example, is the world's second-largest oil consumer. Its sovereign debt crisis could push the region from recession into depression, driving down oil demand and prices.
Or take China… The Chinese economy is slowing down. Since China is the world's workshop (and a major supplier of gold to Europe), any slowdown there would depress commodity prices.
And then there's Iran. For now, the country's "saber rattling" is supporting oil prices. (You can read more about why here.) But if this "conflict" gets resolved peacefully, it will take even more air out of the oil price.
I believe whatever happens, oil still is facing a drop to $60. And given the global situation, oil could easily sink to $50 per barrel… or even $40 a barrel. I don't expect a drop of that magnitude, but it's possible.
So you need to be on-guard for a giant fall in oil prices. That means steering clear of oil investments right now. There's simply too much risk in holding them… and not enough upside. That's the short-term outlook.
And longer term?
Remember… commodities are cyclical. They go through big booms and busts. And should an oil bust arrive, it will create a lot of opportunities to buy cheap, distressed assets.
The world has a knack for avoiding "Armageddon," so a long-term investor should look at an oil crash as a great opportunity. Should one arrive, I'll be the first to alert you.
Good investing,
Matt
[ad#jack p.s.]
Source: Daily Wealth