Drug stocks have been on a tear this year.
Pharmaceutical giant Abbott Labs is up 18%. Smaller names like Questcor and Auxilium are up 38% and 35%, respectively.
The sector overall – as measured by the PowerShares Dynamic Pharmaceuticals fund (PJP) – is up 19% so far in 2012… more than double the S&P 500's 9% return.
[ad#Google Adsense 336×280-IA]Most investors get scared when they hear about powerful moves like this.
They're more likely to sell than buy because they assume the sector is expensive.
But that isn't the case today…
Now is not the time to sell.
Big Pharma is one of the strongest uptrends around.
These stocks are still cheap, and as a whole, the sector is paying close to its highest dividend ever.
Now is the time to buy into the pharma uptrend. Let me explain…
Big-name drug stocks are paying market-beating cash dividends.
We've only seen dividend yields this high a few times in the past 30 years. Take a look…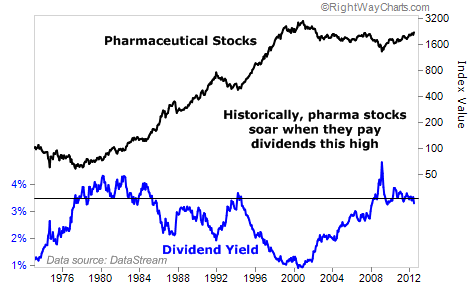 Excluding the 2009 crash, the last time we saw dividends this high was 1994. Back then, the peak in yields launched the pharmaceutical sector into a massive seven-year bull market. Pharma stocks increased more than 500% and reached an all-time high in 2000.
You see, 20 years ago, investors sought out cash-paying investments. As investors bought dividend-paying drug stocks, they drove the share prices up. The same trend is happening today.
Thanks to their high dividends in 1994, triple-digit gains were standard for big-name drug stocks. Back then, Johnson & Johnson (JNJ) paid out 2.9%, even less than today. That started an incredible run in J&J's stock. The company increased over 450% into its 2000 peak.
The same thing happened with Pfizer (PFE). In 1994, the company paid a 3.5% dividend… and rocketed 850%. Merck (MRK) paid a 3.8% dividend… and rose 500%. And so on…
Today, the pharmaceutical sector pays a 3.3% dividend yield… That's 50%-plus over the S&P 500's 2.1% yield. And some of the top names pay even larger yields…
These are incredible dividends in a world where 10-year Treasuries only pay 1.6%. And historically, many of these companies are at or near all-time-high dividend yields.
Of course, the "Johnson & Johnsons" of today are very different than they were in 1994. These drug companies will grow slower than they did 20 years ago. So we shouldn't expect thousands of percent returns.
But right now, these companies are thriving. They're paying huge – and often growing – dividends to their shareholders. And based on dividends, drugs stocks are a better deal today than they were nearly three decades ago.
With 10-year Treasuries paying less than 2%, drug companies pay nearly twice the cash income. That wasn't true in 1994, when interest rates were much higher than they are today. Investors didn't consider J&J's 3% dividend as "competitive" with the double-digit rates you could have earned by buying government bonds or even a CD!
Right now, the dividend yields on these stocks – relative to other investments – is simply too high for cash-seeking investors to ignore. I expect their appetites for income will fuel the tailwind driving drugs stocks higher.
If you don't already own pharma, consider some of the names listed above. Or you can easily buy a basket of these companies with the PowerShares Dynamic Pharmaceuticals Fund (PJP).
Yes, these companies are up big in 2012. But now is not the time to sell. They're still cheap, and they still pay hefty dividends. We want to be onboard this long-term trend.
Good investing,
Brett Eversole
[ad#jack p.s.]
Source: Daily Wealth