After more than a year of suffering, uranium prices are perking up.
The "energy metal" used in nuclear reactors jumped 3% this week… and is up an impressive 8% over the past month.
Recall… Japan's catastrophic March 2011 earthquake and tsunami devastated the Fukushima Daiichi power plant.
It was the worst nuclear disaster since Chernobyl.
[ad#Google Adsense 336×280-IA]As a safety measure, Japan shut down its nuclear power plants.
Most of Europe followed suit.
And the price of uranium fell hard…
But as I told you in June, this is what opportunity looks like in resources.
And uranium is going steadily from bad to less bad right now.
As I said in that essay, I wanted to see an uptrend forming in uranium before investing.
And we're getting close, as you can see in the chart below…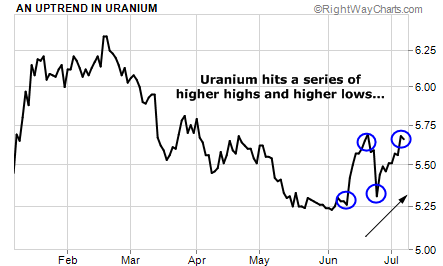 A concrete example of the changing fortunes for uranium and the nuclear power industry can be seen in Great Britain's Horizon project.
Two German nuclear companies, RWE and E.ON, were scheduled to build brand-new nuclear reactors in Gloucestershire, England and Anglesey, North Wales. Those projects are part of Great Britain's plan to use nuclear power to reduce carbon dioxide emissions by 80% by 2050.
But Germany threw the entire Horizon project in doubt by placing a moratorium on nuclear power. As a result, in March, RWE and E.ON pulled out of the nuclear reactor deal…
Now, just three months later, new companies are stepping in to fill the void.
Giant French nuclear company Areva and China's state-run Guangdong Nuclear Power Corporation (CGNPC) will bid on the project. Another team expected to bid is Westinghouse (owned by Toshiba) with U.S. energy company Exelon and another, as-yet-unnamed Chinese partner.
Countries like Great Britain, China, Japan, and the U.S. are showing renewed interest in constructing nuclear power plants. The world still embraces nuclear power as a clean, promising energy fuel.
As I've predicted for over a year, the Japanese disaster – though tragic – will not suppress uranium's inevitable rise. It looks like the markets may be starting to agree. The trend in uranium is moving steadily higher.
Speculators looking to take some risk could jump into Cameco (CCJ). Shares of this $8.8 billion mining behemoth are up 17% since mid-June. It's the safest pure uranium-mining company out there.
It's too early to say uranium is starting a new rally… but prices are near a bottom, and just starting to rise. That's why we are near a low-risk, high-reward situation in uranium right now.
Good investing,
Matt Badiali
[ad#jack p.s.]
Source: The Growth Stock Wire